La grippe H5N1 sur le retour ?
350 corneilles ont été retrouvées mortes en Inde ce week-end pour une raison encore inexpliquée. Toutefois, la fameuse grippe H5N1 est montrée du doigt.
350 crow deaths in two days
VISHVENDU JAIPURIAR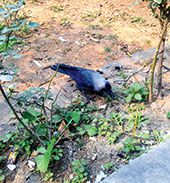 Hazaribagh town is yet to report any case of avian influenza. Picture by Vishvendu Jaipuriar
Hazaribagh, Dec. 11: The mysterious epidemic that has claimed hundreds of crows in Jharkhand has now spread to Hazaribagh, with 350-odd scavengers perishing in Vishnugarh and Katkamsandi over the weekend, triggering panic among residents who have been advised by experts not to touch the carcasses.
More than 1,000 crows have died in Jamshedpur alone in the past one and a half months, besides a number of deaths in Ghatshila and Giridih.
According to villagers, the carcasses of around 250 crows have been spotted in the last two days on the premises of Ram Mandir in Vishnugarh.
Mukhiya of Vishnugarh panchayat Arun Rajak said he had informed forest officials about the deaths.
Forester Shiv Shankar Prasad suspected that the crows fell prey to avian flu.
In a report sent to the Union agriculture ministry on Thursday, the Indian Veterinary Research Institute's (IVRI) Bhopal centre had held the avian influenza virus, H5N1, responsible for the crow deaths in Jharkhand.
Prasad said that avian flu had been detected in chickens earlier. He added, "I have informed forest higher-ups and we plan to distribute medicines to check the deaths in the reported areas."
He said they would send carcasses to the IVRI centre in Bareilly as well as National Institute of Virology, Pune, to identify the exact reasons behind the crow deaths here.
At Bachra village under Dhotwa panchayat in Katkamsandi block, crows deaths were reported since yesterday.
Sher Mohammad, a resident, feared it was an indication of something worse. "Villagers are in panic, seeing crows drop dead on the ground suddenly. We have spotted around 100 carcasses in various places so far," he added.
Satya Prakash, an expert who runs the wildlife protection NGO, Neo Human Foundation, said villagers should exercise caution and avoid touching the carcasses.
"The virus could infect human beings and other birds as well. People should bury the carcasses first," he said, adding that he had received calls from alarmed villagers in Katkamsandi and Pelawal this morning.
He met district animal husbandry officer Yamuna Prasad later today and demanded protective equipment, including masks, for residents of Hazaribagh to help the dispose of the carcasses safely.
Sources said that around 50 crows also died at Harli village in Barkagaon block today.
Source: the Telegraph
Pour être informé des derniers articles, inscrivez vous :