La Corée du Nord annonce entrer en « état de guerre » contre Séoul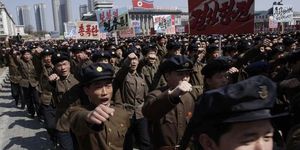 La Corée du Nord, qui a placé vendredi les unités de ses fusées en état d'alerte et multiplie les déclarations belliqueuses contre les États-Unis et la Corée du Sud, a annoncé samedi entrer « en état de guerre » contre Séoul, rapporte l'agence KCNA.
« À partir de cet instant, les relations Nord-Sud entreront en état de guerre et toutes les questions soulevées entre le Nord et le Sud seront réglées en conséquence », a déclaré Pyongyang dans un communiqué publié par l'agence officielle KCNA.
Techniquement, les deux « frères ennemis » de la péninsule sont toujours en guerre, le conflit qui les a opposées de 1950 à 1953 ayant été conclus par un armistice signé à Panmunjom et non par un traité de paix.
La Russie redoute une situation hors de contrôle en Corée du Nord

MOSCOU - La Russie a mis en garde vendredi contre des actions unilatérales qui risquent de faire perdre le contrôle de la situation en Corée du Nord, où le régime prépare ses missiles pour d'éventuelles frappes contre les Etats-Unis.

Nous pouvons perdre le contrôle de la situation, elle s'engage dans la spirale d'un cercle vicieux, a déclaré le chef de la diplomatie russe, Sergueï Lavrov, lors d'une conférence de presse.

Nous sommes préoccupés par le fait que des actions unilatérales, qui consistent à intensifier les activités militaires, sont entreprises autour de la Corée du Nord parallèlement à la réaction appropriée du Conseil de sécurité de l'ONU et à la réaction collective de la communauté internationale, a-t-il ajouté.

La Russie appelle tous les pays à s'abstenir de montrer leur force militaire et à ne pas utiliser la situation actuelle pour atteindre des objectifs géopolitiques dans la région par des moyens militaires, a-t-il encore dit.

Le dirigeant de la Corée du Nord, Kim Jong-Un, a ordonné vendredi des préparatifs en vue de frappes de missiles vers le continent américain et les bases des Etats-Unis dans le Pacifique, en réponse aux vols d'entraînement de bombardiers furtifs B-2, dans une péninsule sous tension.

Les Etats-Unis avaient annoncé la veille que deux bombardiers furtifs B-2 avaient survolé la Corée du Sud, lors de sessions d'entraînement, soulignant ainsi l'engagement américain aux côtés de son allié, la Corée du Sud, en cette période de tensions accrues sur la péninsule.

Depuis début mars et l'adoption de nouvelles sanctions par l'ONU à l'égard de Pyongyang, après un troisième test nucléaire, la Corée du Nord a intensifié ses déclarations, menaçant régulièrement Séoul et Washington de frappes stratégiques et de guerre totale.
Vladimir Poutine supervise des exercices militaires surprise dans la région de la mer noire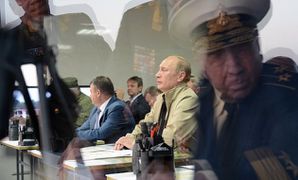 À son retour d'Afrique du Sud où il a assisté à un sommet des cinq grands pays émergents (les BRICS), le président russe, Vladimir Poutine, a décidé, le 28 mars, de lancer un vaste exercice militaire dans la région de la mer Noire.



La durée de ces manœuvres n'a pas été précisée. L'on sait qu'elles mobilisent pas moins de 36 navires de guerre appartenant à la Flotte russe de la mer Noire, dont l'état-major est basé à Sébastopol, en Ukraine, des avions de combat, des hélicoptères, 250 blindés ainsi que "des troupes d'intervention rapide, des troupes aéroportées, ainsi que des unités des troupes spéciales de l'état-major général des Forces armées."

"Ces manœuvres non planifiées ont pour objectif de tester les capacités de combat et le niveau de coopération entre différentes unités des forces russes", a expliqué Dmitri Peskov, le porte-parole du Kremlin. "La Russie n'a pas informé préalablement ses partenaires étrangers de ces manœuvres", a-t-il précisé, soulignant que cela n'était pas nécessaire étant donné que les effectifs militaires mobilisés sont inférieurs à 7000 hommes.

"Les unités engagées aux manœuvres effectuent des marches forcées de 500 km vers les régions où les militaires devront accomplir plusieurs missions et participer aux tirs sur les polygones "Raïevski", "Temriouk" et "Opouk". Les navires de la flotte russe de la mer Noire effectuent aussi des manœuvres et des tirs d'entraînement", a, de son côté, expliqué le porte-parole du ministère russe de la Défense.

Une opération amphibie est également au programme. Elle consistera à faire débarquer une brigade "dans un secteur inadapté par un mauvais temps" près de Sebastopol.

D'après le chef d'état-major de l'armée russe, le général Valéri Guérassimov, des manœuvres similaires ayant eu lieu en février dernier n'avaient pas donné entièrement satisfaction. Et Vladimir Poutine de demander une amélioration du fonctionnement des armées et de promettre la tenue de nouveaux exercices avec un court délai de préparation. Pour le coup, il aura tenu promesse.

Par ailleurs, le fait que ces exercices se déroulent en mer Noire doit susciter quelques inquiétudes chez les pays voisins. "Nous allons suivre très attentivement ces manœuvres étant donné que la Géorgie a sa propre expérience avec la Russie", a ainsi affirmé Tedo Japaridze, le président de la commission des Affaires étrangères du Parlement géorgien, avec un sous-entendu à la guerre russo-géorgienne d'août 2008.

http://www.opex360.com/2013/03/29/le-president-poutine-lance-un-exercice-militaire-surprise-de-grande-ampleur/
Déclaration de guerre complète
The moves of the U.S. imperialists to violate the sovereignty of the DPRK and encroach upon its supreme interests have entered an extremely grave phase. Under this situation, the dear respected Marshal Kim Jong Un, brilliant commander of Mt. Paektu, convened an urgent operation meeting on the performance of duty of the Strategic Rocket Force of the Korean People's Army for firepower strike and finally examined and ratified a plan for firepower strike.
The important decision made by him is the declaration of a do-or-die battle to provide an epochal occasion for putting an end to the history of the long-standing showdown with the U.S. and opening a new era. It is also a last warning of justice served to the U.S., south Korean group and other anti-reunification hostile forces. The decision reflects the strong will of the army and people of the DPRK to annihilate the enemies.
Now the heroic service personnel and all other people of the DPRK are full of surging anger at the U.S. imperialists' reckless war provocation moves, and the strong will to turn out as one in the death-defying battle with the enemies and achieve a final victory of the great war for national reunification true to the important decision made by Kim Jong Un.
The Supreme Command of the KPA in its previous statement solemnly declared at home and abroad the will of the army and people of the DPRK to take decisive military counteraction to defend the sovereignty of the country and the dignity of its supreme leadership as regards the war moves of the U.S. and south Korean puppets that have reached the most extreme phase.
Not content with letting B-52 make sorties into the sky over south Korea in succession despite the repeated warnings of the DPRK, the U.S. made B-2A stealth strategic bomber and other ultra-modern strategic strike means fly from the U.S. mainland to south Korea to stage a bombing drill targeting the DPRK. This is an unpardonable and heinous provocation and an open challenge.
By taking advantage of the U.S. reckless campaign for a nuclear war against the DPRK, the south Korean puppets vociferated about "preemptive attack" and "strong counteraction" and even "strike at the commanding forces", openly revealing the attempt to destroy monuments symbolic of the dignity of the DPRK's supreme leadership.
This clearly shows that the U.S. brigandish ambition for aggression and the puppets' attempt to invade the DPRK have gone beyond the limit and their threats have entered the reckless phase of an actual war from the phase of threat and blackmail.
The prevailing grim situation more clearly proves that the Supreme Command of the KPA was just when it made the judgment and decision to decisively settle accounts with the U.S. imperialists and south Korean puppets by dint of the arms of Songun, because time when words could work has passed.
Now they are openly claiming that the B-2A stealth strategic bombers' drill of dropping nuclear bombs was "not to irritate the north" but "the defensive one". The U.S. also says the drill is "to defend the interests of its ally". However, it is nothing but a lame pretext to cover up its aggressive nature, evade the denunciation at home and abroad and escape from the DPRK's retaliatory blows.
The era when the U.S. resorted to the policy of strength by brandishing nuclear weapons has gone.
It is the resolute answer of the DPRK and its steadfast stand to counter the nuclear blackmail of the U.S. imperialists with merciless nuclear attack and their war of aggression with just all-out war.
They should clearly know that in the era of Marshal Kim Jong Un, the greatest-ever commander, all things are different from what they used to be in the past.
The hostile forces will clearly realize the iron will, matchless grit and extraordinary mettle of the brilliant commander of Mt. Paektu that the earth cannot exist without Songun Korea.
Time has come to stage a do-or-die final battle.
The government, political parties and organizations of the DPRK solemnly declare as follows reflecting the final decision made by Kim Jong Un at the operation meeting of the KPA Supreme Command and the unanimous will of all service personnel and people of the DPRK who are waiting for a final order from him.
1.From this moment, the north-south relations will be put at the state of war and all the issues arousing between the north and the south will be dealt with according to the wartime regulations.
The state of neither peace nor war has ended on the Korean Peninsula.
Now that the revolutionary armed forces of the DPRK have entered into an actual military action, the inter-Korean relations have naturally entered the state of war. Accordingly, the DPRK will immediately punish any slightest provocation hurting its dignity and sovereignty with resolute and merciless physical actions without any prior notice.
2. If the U.S. and the south Korean puppet group perpetrate a military provocation for igniting a war against the DPRK in any area including the five islands in the West Sea of Korea or in the area along the Military Demarcation Line, it will not be limited to a local war, but develop into an all-out war, a nuclear war.
It is self-evident that any military conflict on the Korean Peninsula is bound to lead to an all-out war, a nuclear war now that even U.S. nuclear strategic bombers in its military bases in the Pacific including Hawaii and Guam and in its mainland are flying into the sky above south Korea to participate in the madcap DPRK-targeted nuclear war moves.
The first strike of the revolutionary armed forces of the DPRK will blow up the U.S. bases for aggression in its mainland and in the Pacific operational theatres including Hawaii and Guam and reduce not only its military bases in south Korea but the puppets' ruling institutions including Chongwadae and puppet army's bases to ashes at once, to say nothing of the aggressors and the provokers.
3. The DPRK will never miss the golden chance to win a final victory in a great war for national reunification.
This war will not be a three day-war but it will be a blitz war through which the KPA will occupy all areas of south Korea including Jeju Island at one strike, not giving the U.S. and the puppet warmongers time to come to their senses, and a three-dimensional war to be fought in the air, land and seas and on the front line and in the rear.
This sacred war of justice will be a nation-wide, all-people resistance involving all Koreans in the north and the south and overseas in which the traitors to the nation including heinous confrontation maniacs, warmongers and human scum will be mercilessly swept away.
No force on earth can break the will of the service personnel and people of the DPRK all out in the just great war for national reunification and of all other Koreans and overpower their might.
Holding in high esteem the peerlessly great men of Mt. Paektu, the Korean people will give vent to the pent-up grudge and realize their cherished desire and thus bring a bright day of national reunification and build the best power on this land without fail. (via KCNA)