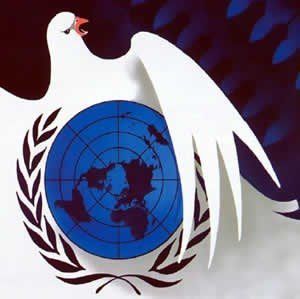 Je vous mets un communiqué me semblant très important pour nos amis Québecois. Je l'ai trouvé sur le blog UN Watch, le blog officiel du Conseil des Droits de l'Homme de l'ONU, celà concerne les agissement du gouvernement canadien contre les droits de l'Homme sur la gestion de la crise du Québec. Même si j'en ai compris la teneur mes capacités de traducteur étant assez limitées, j'encourage nos lecteurs bilingues à en faire une traduction que nous pourrions poster sur Scoop.It et notre page Facebook avec les honneurs qui se doivent.
GENEVA, June 17 – Canada will be put in the company of some of the world's worst abusers of human rights tomorrow when the UN's highest human rights official expresses "alarm" over Quebec's new law on demonstrations during her opening address to a meeting of the 47-nation UN Human Rights Council, revealed the Geneva-based monitoring group UN Watch, which obtained an advance copy of her speech. Other states on the UN watchlist include Syria, Pakistan and Zimbabwe.

"Moves to restrict freedom of assembly continue to alarm me, as is the case in the province of Quebec in Canada in the context of students' protests," UN High Commissioner for Human Rights Navi Pillay will say tomorrow, according to her draft speech.

The rights czar reserves her sharpest language for Canada. While Pillay cites only two other countries in the world for restrictions on freedom of assembly—expressing "concern" about Russia, and "deep concern" for Eritrea—only Canada provokes her far stronger "alarm."

Some human right experts questioned Pillay's judgment and sense of proportion in turning an unprecedented spotlight on a country generally considered as one of the world's most free and democratic.

"While Canada is certainly fair game for criticism," said Hillel Neuer, the Montreal-born lawyer who directs UN Watch, "for Pillay to divert the world's attention to what in a global context is an absolutely marginal case—a law already under before the chief justice of the Quebec Superior Court, and which appears far less demanding than the Swiss laws regulating the human rights rallies we hold in front of her own building—is simply absurd."

"Indeed a veteran Tibet activist expressed shock today that the UN commissioner's speech, ostensibly about situations requiring the world's attention, spends time on Canada while saying nothing about China, a dictatorship that systematically represses and brutalizes Buddhist monks and millions more," said Neuer. "When a prosecutor goes after jaywalkers while allowing rapists and murderers to roam free, that's not only illogical, but immoral."

"She just needs to keep things in proportion. Quebec's Bill 78 was adopted by an elected democracy and will now be scrutinized by a series of independent courts applying the world's finest machinery for reviewing legislation according to constitutional human rights guarantees—the Charter process that's already underway."

"Meanwhile, most of the world's worst abuses—like those Pillay fails to cite in the police states of Belarus and Cuba, and in the misogynistic regimes of Iran and Saudi Arabia—are devoid of any scrutiny. Those are the ones that desperately require the UN's attention."

"The Canadian activists who presumably put her up to this are misguided, and the UN commissioner is making a big mistake by sending the message that countries that have blots on their system—if indeed the Quebec law is a blot—are even worse than countries where the blot is the system."
UN Watch is a Geneva-based human rights organization founded in 1993 to monitor UN compliance with the principles of its Charter. It is accredited as a Non-Governmental Organization (NGO) in Special Consultative Status to the UN Economic and Social Council (ECOSOC) and as an Associate NGO to the UN Department of Public Information (DPI).
Source: Scoop.it
Une alerte concernant cet article nous a été envoyé, voici l'email
Je vous de vérifier les sources et origines de ce communiqué.

L'information qui y est donné est en grande partie déformée. Il est faut de dire que l'ONU ait mis le Canada sous surveillance. Mme Pillay ne fait que souligner une inquiétude en regard de cette loi 78 adoptée par le gouvernement canadien.

L'auteur de ce communiqué et directeur de UN Watch est Hillel Neuer, une personne qui s'acharne à critiquer le travail de Mme Pillay lorsqu'elle a critiqué certaines décisions d'Israël. M. Neuer serait associé à l'American Jewish Committee et au World Jewish Congress.

Je vous ferais remarquer que l'auteur de ce communiqué ne nomme pas les auteurs «experts de l'ONU» qu'il cite, autre que M. Neuer, directeur de l'organisation.

Je vous suggère de consulter cet article publié par un anthropologue et journaliste Québcois sur sa page Facebook:
https://www.facebook.com/notes/mo%C3%AFse-marcoux-chabot/critique-du-canada-par-lonu-la-vigilance-simpose/2861205308168