Maison des Syndicats à Odessa
Les gens sautent par les fenêtres, un homme les achève en bas...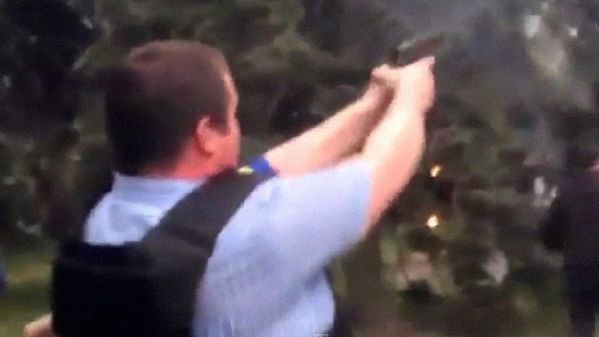 Mise à jour:Des vidéos passent à travers la censure. Elles proviennent de RT. Attention, elles sont choquantes.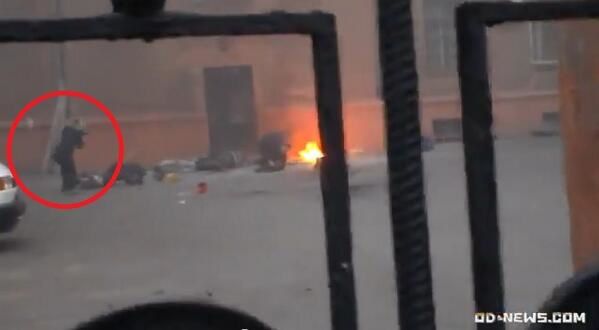 La vidéo a été censurée sur Youtube, nous avons pu voir les images avant qu'elles disparaissent du net, et en effet, durant la tragédie de la maison des syndicats à Kiev, qui a fait dans un dernier bilan 47 morts, des pro-russes piégés par les flammes se sont mis à se défenestrer, pour ceux-là, des hommes armées ukrainiens leur réservait non pas leur aide, mais la mort. Ainsi, dans la vidéo, l'on voit un homme abattre de sang-froid un pro-russe alors qu'il venait de sauter pour sauver sa peau. Pour témoignage ne reste que cette capture d'écran, assez stupéfiante.
Vraisemblablement, la paix n'est pas pour demain, bien au contraire…
Alexander Doyle pour WikiStrike
Article de Russia Today
http://rt.com/news/156664-odessa-fire-radicals-shoot/
New video has emerged online which shows a man shooting at the windows of Odessa's burning House of Trade Unions. At least 39 anti-government activists died in the flames on May 2 in the building besieged and set ablaze by radicals.
A man in the video is wearing a bulletproof vest and is shooting several times in the direction of the burning House of Trade Unions.
Another video of the same man shows him speaking on the phone passionately arguing that he and his people are unarmed, while having to confront armed anti-government protesters. The man introduces himself as sotnik Mykola ("sotnik" is what Maidan group leaders in Kiev call themselves) He also says he was wounded in the leg by protesters, although he doesn't look hurt in the footage.
Both the videos have gathered thousands of views on YouTube, stirring a wave of indignation at the man's hypocrisy and his shooting at the people trapped inside the burning building.
Survivors of the fire say they had to barricade themselves inside the House of Trade Unions, to hide from an aggressive mob, which had torched their tent camp.
Radicals then began throwing Molotov cocktails at the Trade Unions building, setting it on fire. Witnesses say that those who managed to escape the fire, were severely beaten outside by the besiegers of the burning building.
"We couldn't go down, we were seeing people from other floors being brought down and then those rioters down there attacked them like a pack of wolves," a survivor of the fire, who was hiding on the roof of the building, told RT.
Afraid of falling into the hands of radicals, people didn't leave the House of Trade Unions, where dozens eventually burnt alive, suffocated or jumped out of windows.
The Ukrainian Interior Ministry however offers a different version of events, saying the victims of the violent unrest started the fire themselves, when they began throwing Molotov cocktails from the upper floor.
Multiple videos of the incident, however, show Molotov cocktails flying from outside the building.
Several hundred people rallied overnight in Odessa outside the local police headquarters, demanding the release of the fire survivors who had been detained on May 2.
People claim around 60 survivors of the Trade Unions House are currently being held in jails. The rally participants told journalists that anti-government activists who managed to get out of the burning building were first beaten by nationalist militants outside and then detained by police.
Many of the rally participants were holding pictures of their relatives and friends, who have been missing since clashes broke out in Odessa two days ago.