N'ayons pas peur des mots, parlons de guerre civile.
Certains diront, ce ne sont que 15 vétérans, et un seul homme qui appelle au ralliement des troupes pour la défense des citoyens américains ruinés. Nonobstant, un vétéran prêt à sa battre peut être un élement déclencheur dans la tête des marines qui ont le plus grand respect pour leurs vétérans.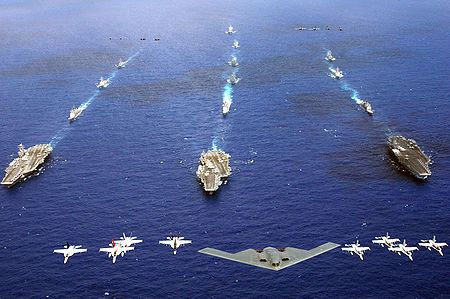 Le mouvement « Occuper Wall Street » vient peut-être juste de recevoir une surprise inattendue. L'armée américaine et des troupes de Marines auraient été vues à différents endroits de manifestations en train de soutenir le mouvement et protéger les manifestants.
Un militaire, Ward Reilly a posté ceci sur facebook :
« Je vais là-bas ce soir dans ma tenue bleue. Pour l'instant, 15 de mes collègues Marine m'y rejoindront, aussi en uniforme.
Je veux adresser le message suivant à Wall Street et au Congrès :
Je n'ai pas combattu pour Wall Street. Je me suis battu pour l'Amérique. Maintenant, c'est au tour du Congrès.
Mon véritable espoir, cependant, est que nous, vétérans, puissions agir en tant que première ligne de défense entre la police et les manifestants. S'ils veulent choper des manifestants et les matraquer, ils devront d'abord passer au travers du putain de Premier Corps des Marines. Voyons voir un flic matraquer un tas de vétérans de guerre décorés.
Je m'excuse pour les fautes de frappes et les erreurs. J'écris ça sur un iPhone pendant que je me dirige vers New York. Nous pouvons nous organiser une fois là-bas. C'est ce que nous faisons le mieux. Si vous voyez quelqu'un en uniforme, ralliez-le.
Un rassemblement aura lieu ce soir à 22h.
Nous avons tous prêté serment de respecter, protéger et défendre la constitution de ce pays. C'est ce que nous allons faire.
En espérant vous y voir !! »
Semper Fi: Marines Coming To Protect Protesters On Wall Street
The thousands of indefatigable Wall Street protestors, risking their eyes and recording equipment against Wall Street's personal jack-booted thugs in the NYPD, recently garnered even more support– the US Marines. That's the type of support that may make an NYPD cop think twice before he decides to go all Tiananmen Square on a group of teenage girls, armed with chalk and cardboard signs (maybe it's because they are spelled properly?).
The Occupy Wall Street movement may have thought it broke new ground when the NYC Transit Union joined their movement, but that ground just tipped the Richter Scale with news that United States Army and Marine troops are reportedly on their way to various protest locations to support the movement and to protect the protesters.
Here's the message Ward Reilly relayed from another Marine, on his facebook page:
"I'm heading up there tonight in my dress blues. So far, 15 of my fellow marine buddies are meeting me there, also in Uniform. I want to send the following message to Wall St and Congress:I didn't fight for Wall St. I fought for America. Now it's Congress' turn.

My true hope, though, is that we Veterans can act as first line of defense between the police and the protester. If they want to get to some protesters so they can mace them, they will have to get through the Fucking Marine Corps first. Let's see a cop mace a bunch of decorated war vets.I apologize now for typos and errors.

Typing this on iPhone whilst heading to NYC. We can organize once we're there. That's what we do best.If you see someone in uniform, gather together.

A formation will be held tonight at 10PM.

We all took an oath to uphold, protect and defend the constitution of this country. That's what we will be doing.




Hope to see you there!!"
Kudos, Mr Reilly!Thank You for having the courage and foresight to see past the transparently false and empty patriotism perpetually touted by the defense skanks and petro whores in Congress in order to keep their campaign coffers filled to the brim. Meanwhile, your brothers and sisters suffer massive cuts and are forced to live with PTSD, with little if any help from the very government and country for which you have sacrificed so much. Thank you for recognizing this movement not as a bunch of screaming white liberal kids with Henna tattoos, but as a universal and profound rejection of the unchecked and undue influence the plutocrats on Wall Street have had on the decision-making in Washington. Thank You for your service, and thank you for seeing through all the mountains of bullsh#t being shoveled around the clock by the Koch Bros. puppets in Washington via their lapdogs in the media.
It's safe to say to if Mr. Reilly and his fellow marines lend their voices, it could be a defining moment that gives the Occupation of Wall Street movement the just right amount of fuel it needs to catch fire. After all, it would be interesting to see the media ignore NYPD cops pepper spraying decorated war veterans, assuming the donut marchers dared to even consider the notion of trying.
Michael is a comedian/VO artist/Columnist extraordinaire, who co-wrote an award-nominated comedy, wrote for NY Times Laugh Lines, guest-blogged for Joe Biden, and writes a column for MSNBC.com affiliated Cagle. Follow him on Twitter and Facebook. Seriously, follow him or he'll send you photos of Rush Limbaugh bending over in a thong.