Troy
Davis est mort
Les Etats-Unis sont des assassins qui ont pris l'habitude de tuer des innocents sur leur territoire comme dans le monde entier.
Rappel d'hier :
Cet ultime appel à protestation mérite d'être en première page de Wikistrike et d'agoravox et de tout media alternatif
Il reste très peu de temps, quelques heures pour empêcher la mort de cet homme dont d'ailleurs la culpabilité n'est pas prouvée.
Les hommes et femmes de ce pays, quelle que soit leur propre opinion philosophique ou politique peuvent et doivent se mobiliser pour empêcher que cet homme soit exécuté.
Prenez quelques instants pour lire ce message, pour téléphoner ou envoyer un courriel.
Jean-François Chalot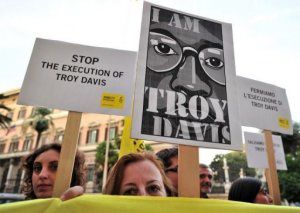 Ultime appel à protestation mercredi 21 septembre à 18h30
Place de la Concorde, côté Jardin des Tuileries, Paris 1er
Plusieurs associations françaises, dont Amnesty International France, appellent à un ultime rassemblement à proximité de l'Ambassade des Etats-Unis mercredi 21 septembre en protestation à l'exécution de Troy Davis qui doit avoir lieu le jour même à 19h00 heure locale (01h00 heure française) dans l'Etat de Géorgie aux Etats-Unis.
Amnesty International France est révoltée par la décision du comité des grâces prise ce jour de laisser exécuter Troy Davis, ce qu'elle considère comme un affront à la justice. Le Comité des grâces manque à son engagement pris en 2007 de ne confirmer l'exécution que si sa culpabilité ne fait aucun doute.
L'organisation exhorte le comité des grâces à revenir sur sa décision. Amnesty International France appelle Larry Chisolm, procureur du District, à faire tout ce qui est en son pouvoir afin d'empêcher le processus d'exécution mais également les autorités de l'Etat de Géorgie ainsi que les autorités fédérales américaines à demander la commutation de la peine. S'ils n'agissent ni se prononcent, ils endosseront, dès lors sciemment, l'exécution d'un possible innocent.
Amnesty International France reste mobilisée et nous vous proposons à continuer d'agir en direction du procureur du District de l'Etat de Géorgie afin de demander une suspension de l'arrêt d'exécution et de se prononcer lui-même en faveur d'une mesure de grâce. Il n'a pas le pouvoir de bloquer lui-même l'exécution mais sa voix peut porter.
POUR AGIR :
Si vous pouvez, appelez le comité des grâces pour lui demander de revenir sur cette décision au 001 912 652 7308.
Vous pouvez aussi envoyer des courriers au comité des grâces par email :
Clemency_Information@pap.state.ga.us et Webmaster@pap.state.ga.us ou par fax 001 404 651 8502.
Signez la pétition sur le site d'Amnesty International USA
Merci de continuer et de nous rejoindre ce soir place de la Concorde !
Asource : Agoravox
WikiStrike demande aux français, aux américains et au monde entier de prier, prier et se lever pour la vie de Troy que l'Etat de Géorgie va tout bonnement assassiner !!!
Monsieur le Président des Etats-Unis, Barack Obama, il est encore temps de gracier le condamné Davis, voici pour vous 10 arguments :
Les 10 arguments qui innocentent Troy Davis

0h00: Des manifestants sont rassemblés devant la Maison Blanche, et les avocats tentent tout ce qu'ils peuvent pour un recours de dernière seconde, de plus en plus improbable.
20h30: Le quotidien New-York Times dénonce «une erreur judiciaire tragique», concernant Troy Davis, estimant «les nombreuses graves erreurs» commises dans ce dossier.
17h00: Selon la défense, la prison aurait refusé que Troy Davis passe au détecteur de mensonges
15h33: Dans un document que s'est procuré l'AFP, la défense affirmerait être en mesure d'apporter «des preuves» selon lesquelles le médecin légiste qui a autopsié le corps du policier décédé a apporté «un faux témoignage»
14h17: Certains de ses partisans demandent au personnel pénitencier de se mettre en grève ou en congé maladie, selon Associated Press
14h00: Catherine Ashton, chef de la diplomatie européenne, a déclaré au nom de l'UE qu'il y avait de «sérieux doutes» concernant la culpabilité de Troy Davis
13h12: Troy Davis demande à passer au détecteur de mensonges avant son exécution, selon Associated Press
13h05: La France appelle le procureur et les autorités de l'Etat de Géorgie à ne pas exécuter l'Américain
10h42: «Le combat pour la justice ne s'arrête pas avec moi», a déclaré Troy Davis
09h36: «Une grave erreur», titre un éditorial du New York Times
Troy Davis asks Supreme Court to stop execution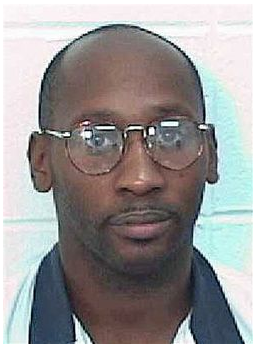 Troy Davis, the condemned inmate who convinced hundreds of thousands of people but not the justice system of his innocence, filed an eleventh-hour plea Wednesday asking the U.S. Supreme Court to stop Georgia authorities from executing him for the murder of an off-duty police officer.
Though Davis' attorneys say seven of nine key witnesses against him have disputed all or parts of their testimony, state and federal judges have repeatedly ruled against granting him a new trial. As the court losses piled up Wednesday, his offer to take a polygraph test was rejected and the pardons board refused to give him one more hearing.
Davis' supporters tried increasingly frenzied measures, urging prison workers to stay home and even posting a judge's phone number online, hoping people will press him to put a stop to the 7 p.m. (2300 GMT) lethal injection. But mostly, they declared "I am Troy Davis" on signs, T-shirts and the Internet, hoping to sway authorities.
"They say death row; we say hell no!" a crowd of about 200 chanted outside the Jackson prison where Davis was to be executed. About 10 counterdemonstrators also were there, showing support for the death penalty and the family of Mark MacPhail, the man Davis was convicted of killing in 1989.
Many of the roughly 150 demonstrators in Paris carried signs emblazoned with Davis' face. "Everyone who looks a little bit at the case knows that there is too much doubt to execute him," Nicolas Krameyer of Amnesty International said at the protest.
Davis' execution has been stopped three times since 2007, but on Wednesday the 42-year-old appeared to be out of legal options.
As his last hours ticked away, an upbeat and prayerful Davis turned down an offer for a special last meal as he met with friends, family and supporters.
"Troy Davis has impacted the world," his sister Martina Correia said at a news conference. "They say, `I am Troy Davis,' in languages he can't speak."
Correia, who is battling breast cancer and using a wheelchair as she helps coordinate rallies and other events, called on people to push for change in the justice system. Then she said, "I'm going to stand here for my brother," and got up with help from people around her.
His attorney Stephen Marsh said Davis would have spent part of Wednesday taking a polygraph test if pardons officials had taken his offer seriously.
"He doesn't want to spend three hours away from his family on what could be the last day of his life if it won't make any difference," Marsh said.
Amnesty International says nearly 1 million people have signed a petition on Davis' behalf. His supporters include former President Jimmy Carter, Pope Benedict XVI, a former FBI director, the NAACP, several conservative figures and many celebrities, including hip-hop star Sean "P. Diddy" Combs.
"I'm trying to bring the word to the young people: There is too much doubt," rapper Big Boi, of the Atlanta-based group Outkast, said at a church near the prison.
The U.S. Supreme Court gave Davis an unusual opportunity to prove his innocence in a lower court last year, though the high court itself did not hear the merits of the case.
He was convicted in 1991 of killing MacPhail, who was working as a security guard at the time. MacPhail rushed to the aid of a homeless man who prosecutors said Davis was bashing with a handgun after asking him for a beer. Prosecutors said Davis had a smirk on his face as he shot the officer to death in a Burger King parking lot in Savannah.
No gun was ever found, but prosecutors say shell casings were linked to an earlier shooting for which Davis was convicted.
Witnesses placed Davis at the crime scene and identified him as the shooter, but several of them have recanted their accounts and some jurors have said they've changed their minds about his guilt. Others have claimed a man who was with Davis that night has told people he actually shot the officer.
"Such incredibly flawed eyewitness testimony should never be the basis for an execution," Marsh said. "To execute someone under these circumstances would be unconscionable."
State and federal courts, however, have repeatedly upheld Davis' conviction. One federal judge dismissed the evidence advanced by Davis' lawyers as "largely smoke and mirrors."
"He has had ample time to prove his innocence," said MacPhail's widow, Joan MacPhail-Harris. "And he is not innocent."
The latest motion filed by Davis' attorneys in Butts County Court disputes testimony from the expert who linked the shell casings to the earlier shooting involving Davis, and challenged testimony from two witnesses. Superior Court Judge Thomas Wilson rejected the appeal, and prosecutors said the filing was just a delay tactic.
The National Association for the Advancement of Colored People, which has helped lead the charge to stop the execution, said it was considering asking President Barack Obama to intervene.
Obama cannot grant Davis clemency for a state conviction. Richard Dieter, executive director of the Death Penalty Information Center, said he could halt the execution by asking for an investigation into a federal issue if one exists.
The White House has not commented on the case, and when asked about it this week, press secretary Jay Carney said that he hadn't spoken with Obama about it.
Dozens of protesters outside the White House called on the president to step in. "The fact that the White House hasn't addressed this issue is completely disrespectful," college student Talibah Arnett said.
Davis was not the only U.S. inmate scheduled to die Wednesday evening. In Texas, white supremacist gang member Lawrence Russell Brewer was headed to the death chamber for the 1998 dragging death of a black man, James Byrd Jr., one of the most notorious hate crime murders in recent U.S. history.
Davis' best chance may have come last year, in a hearing ordered by the U.S. Supreme Court. It was the first time in 50 years that justices had considered a request to grant a new trial for a death row inmate.
The high court set a tough standard for Davis to exonerate himself, ruling that his attorneys must "clearly establish" Davis' innocence _ a higher bar to meet than prosecutors having to prove guilt. After the hearing judge ruled in prosecutors' favor, the justices didn't take up the case.
The planned execution has drawn widespread criticism in Europe, where politicians and activists made last-minute pleas for a stay. A vigil was planned outside the U.S. Embassy in London.
Spencer Lawton, the district attorney who secured Davis' conviction in 1991, said he was embarrassed for the judicial system _ not because of the execution, but because it has taken so long to carry out.
"What we have had is a manufactured appearance of doubt which has taken on the quality of legitimate doubt itself. And all of it is exquisitely unfair," said Lawton, who retired as Chatham County's head prosecutor in 2008. "The good news is we live in a civilized society where questions like this are decided based on fact in open and transparent courts of law, and not on street corners."
___
Associated Press reporters Russ Bynum in Savannah, Kate Brumback and Marina Hutchinson in Jackson, Eric Tucker in Washington and Sohrab Monemi in Paris contributed to this report.
___
http://www.twitter.com/bluestein
Alexander Doyle for Wikistrike