A Oakland, des agences bancaires détruites par les manifestants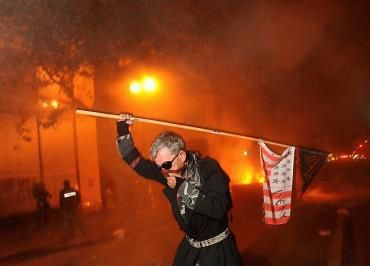 OAKLAND -- A long day of mostly peaceful protest in Oakland descended into chaos after midnight. Masked vandals shattered windows, set fires and plastered downtown businesses with graffiti before police moved in, dispersing crowds with tear gas and flash-bang grenades and making dozens of arrests.
Buildings that had windows smashed early today around City Hall included a Men's Wearhouse store, a dental office and the headquarters of the police internal affairs division.
Graffiti was everywhere - from anarchist symbols to threatening gang tags. Messages included "Oakland commune" and "kill cops."
The street clashes - which hospitalized three protesters and left several officers with minor injuries - happened near Occupy Oakland's tent city in Frank Ogawa Plaza at 14th Street and Broadway, which had been the center of Wednesday's general strike. That event peaked when thousands of people angry at economic inequality marched to the Port of Oakland, shutting it down.
Most of those people had gone home by 11 p.m. Wednesday, when dozens of protesters took over a vacant two-story building at 16th Street and Broadway - two blocks from the encampment - that once housed the nonprofit Travelers Aid Society.
Hundreds of others looked on as protesters barricaded the block at both ends with wooden pallets, trash cans, tables and tires. They hung banners from the building's roof, spray-painted its exterior and chanted, "Whose street, our street!" One group of protesters broke cement blocks into baseball-size rocks.
Police had kept their distance from Occupy Oakland protesters since coming under scrutiny for deploying tear gas and flash-bang grenades and firing projectiles in a clash last week that left one demonstrator with a serious head injury. Police critics said officers had used excessive force and violated city policies on crowd control.
But late Wednesday, hundreds of police officers responded to the area just before midnight. They found that protesters - many covering their faces with bandanas, and some in gas masks - had started a massive trash fire at 16th and Broadway that sent flames 15 feet high.
Police said later that they were concerned that the flames endangered residents in the area along with the 500 or so people on the street.
Just after midnight, police ordered the crowd to disperse as an unlawful assembly. Soon, one officer on Broadway was struck on his face shield by a bottle, disorienting him.
Within a minute, officers launched flash-bang grenades and tear-gas canisters. Protesters scattered and a fire crew put out the blaze.
The crowd quickly regrouped and entered into a long standoff with officers on Broadway. Another confrontation happened at 16th Street and San Pablo Avenue, where police surrounded several dozen people and arrested them just before 1:30 a.m.
Several of those arrested spoke before they were taken away. Jonathan Yeh, 26, of Davis, said he had been in the wrong spot at the wrong time and had not heard a dispersal order.
"I did hear people throwing bottles and breaking windows," he said.
Morgan Ress, 30, of Oakland was watching the protest as an observer for the National Lawyers Guild.
"Police formed lines on both sides of us," Ress said. "I saw them beat anyone who ran and arrest anyone who stood still."
Derek Winslow, 26, of Oakland, was working as a medic.
"I was attempting to provide medical aid to someone who was injured," Winslow said. "I didn't know how close I was to the police line. I was knocked down (by police) and told not to move."
He conceded that he hadn't obeyed orders.
"They gave me an order to disperse and I did not leave," he said.
Police officials drew a contrast between Wednesday's march to the port by Occupy Oakland protesters - which involved thousands of people and was peaceful - and the nighttime events, in which a much smaller crowd grew unruly.
They said the late-night protesters had thrown threw metal pipes, hammers, glass bottles, rocks and cobblestones.
"This begged action," said Sgt. Chris Bolton, chief of staff to interim Police Chief Howard Jordan. "We are reacting to the situation provided to us."
Many protesters disagreed, saying police had escalated the situation and should not have used tear gas. During the standoff, people shouted "go home" at the officers, who appeared to be from several Bay Area agencies.
"These people would be extremely peaceful if the agitators - the police - didn't show up," said a 25-year-old man in a bandana who declined to give his name.
He said the protesters' late-night actions had been "tactical. In other words, it was to make it bigger. There's an awe factor."
The protesters who were on hand for the clashes, though, were deeply split over what happened. Some scolded window-breakers and told them Occupy Oakland was supposed to be a peaceful protest. Whenever someone would light a fire, others would try to stomp it out.
"Violence is not a statement," one protester shouted after a man in a mask broke a clothing store window.
As protesters built one of the barricades on 16th Street, a nearby resident who had joined Wednesday's demonstrations walked up and began to take it apart. But whenever he moved a trash can or table or pallet, a man in a mask would put it back.
"What does putting trash in the street accomplish?" asked the neighbor, 35-year-old Tarrell Gamble, as a crowd confronted him. "This is somebody's property."
Masked men shouted and swore at Gamble, and one protester briefly put him in a headlock. They accused him of being a police officer and said, "Let's give it up for the hall monitor."
"Everybody's so tough with a mask on," Gamble said as he continued to try to clear his street, without success.
After two women escorted him away, Gamble said, "The protest is supposed to be about corporate greed. It's not about trashing the streets of Oakland."
Nearby, a man in a mask said Gamble was wrong. "These are drastic measures, to make people listen," the 24-year-old said. "This is our block now."
E-mail the writers at dbulwa@sfchronicle.com, mkuruvila@sfchronicle.com and jberton@sfchronicle.com.
source: sfgate.com


Pour être informé des derniers articles, inscrivez vous :