Le fondateur de WikiLeaks, Julian Assange, bientôt extradé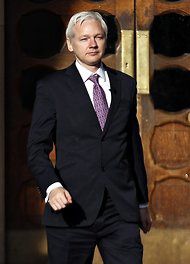 Le fondateur de Wikileaks, Julian Assange, peine à éviter l'extradition vers la Suède. La Cour suprême britannique attend son appel sur un aspect précis de l'avis d'extradition, mais on connait déjà la fin, c'est comme un mauvais film.
On se souviendra en tout cas que WikiLeaks aura transformé l'accès à l'information au niveau mondial. Google aussi, dans une certaine mesure, est une version plus légitime et plus solide financièrement que Wikileaks, c'est une diffusion de l'information sans les filtres imposés par les décideurs politiques et financiers. Google a ses propres filtres… Julian Assange est une sorte de Steve Jobs. On les prend pour des révolutionnaires alors qu'ils ne font que s'affranchir de la tutelle des Etats pour imposer la nécessité inéluctable d'internet, le meilleur cheval de Troie du gouvernement mondial.
Personne ne peut échapper à la modernité version Orwell, personne.
Des idées ?
Article du New York Times:
WikiLeaks Founder Can Make Final Bid to Avoid Extradition
LONDON — The High Court gave permission on Monday for Julian Assange, the founder of the WikiLeaks antisecrecy organization, to begin a final appeal to Britain's highest judicial authority against extradition to Sweden on allegations of sexual abuse, the latest step in a yearlong legal battle in which he has been under house arrest at a friend's country mansion.
In a complicated ruling, two judges rejected most of the grounds on which Mr. Assange, 40, had sought permission to appeal to the Supreme Court. But they said his lawyers could appeal on a single legal technicality relating to the status of the Swedish public prosecutor seeking his extradition.
If the judges had ruled against Mr. Assange, he could have been be sent to Sweden for questioning within days.
Last month, two High Court judges upheld an earlier ruling in favor of extradition, rejecting his lawyers' claims that sending him to Sweden would be "unfair and unlawful." In response, Mr. Assange said he would seek permission to make a final appeal to the Supreme Court, which usually hears only cases of constitutional or general public importance.
In the latest hearing, the same two judges, Sir John Thomas and Duncan Ouseley, said they had certified that a point of law in the case had a broader public interest, enabling the appeal to go ahead. The question to be considered by the Supreme Court was whether the Swedish public prosecutor qualified as a judicial authority.
Mr. Assange's lawyers maintain that public prosecutors are not judicial authorities and are therefore not entitled to sign arrest warrants.
Court officials said the judges' ruling on Monday meant that Mr. Assange's legal team had 14 days to set out grounds for an appeal in a written submission to the Supreme Court. It would then be up to the Supreme Court to decide whether to allow an appeal.
"If leave is granted by the Supreme Court," Sir John said, "we would for obvious reasons ask that the point is decided as quickly as possible."
Speaking on the courthouse steps after the ruling, Mr. Assange said he was thankful the court agreed that his case had broader implications. Referring to his case and those of others fighting extradition, he said, "It has been a long struggle for justice for me and others."
Earlier, Mr. Assange's lawyers were reported to have been considering a last-minute appeal to a European court if the judges refused them permission to approach the Supreme Court. But, court officials said, the European court would likely be unable to prevent Mr. Assange's extradition if the Supreme Court rules against him.
As it is, the officials said, Mr. Assange will probably be able to remain in Britain into 2012 as the latest legal processes are played out.
WikiLeaks' release of hundreds of thousands of classified United States military documents on the Iraq and Afghanistan wars and classified State Department diplomatic cables dominated the front pages of newspapers across the world, including The New York Times, last year. Mr. Assange depicted those releases as a means of seeking publicity for documents he hoped would reshape the very nature of government.
But in August 2010, as he rode a wave of celebrity, he was accused of sexual molestation, unlawful coercion and rape, by two WikiLeaks volunteers in Stockholm who said that consensual encounters with Mr. Assange became nonconsensual. Mr. Assange appeared for an initial interview with the police there that month, but fled to London before further questioning could be completed, a court here was subsequently told.
Swedish prosecutors decided to issue an Interpol red notice and a European arrest warrant to compel him to return last December but Mr. Assange, who denies the charges, has fought the warrants at every turn.
He was briefly jailed a year ago, before being released on bail and placed under house arrest at the country mansion of a wealthy friend in eastern England.
Protesters and celebrity supporters — including the socialites Jemima Khan and Bianca Jagger and the journalist John Pilger — have often conflated the case with a battle for free speech. Mr. Assange himself has suggested that government forces might be behind the allegations of sexual wrongdoing as a means of silencing him.
Ravi Somaiya reported from London, and Alan Cowell from Paris.
Pour être informé des derniers articles, inscrivez vous :