Un projet de loi américain réduit les Etats Unis à un vaste champ de bataille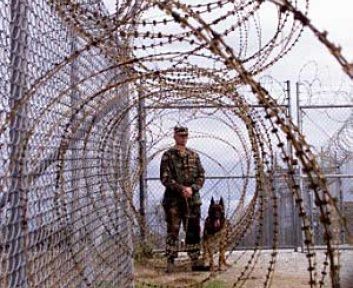 Ce lundi ou mardi, le Sénat américain va passer au vote un projet de loi qui permettra à l'armée américaine d'emprisonner pour une durée indéterminée tout citoyen du monde, où qu'il se trouve ,  même à son propre domicile, sans passer par une inculpation et sans qu'un procès ait nécessairement eu lieu.
Le site de l'ACLU affirme que même les citoyens américains ne seraient pas exempts, puisque la nouvelle législation déclarerait les Etats Unis comme faisant partie du champ de bataille de la Guerre de la Terreur. Le projet de loi, appelé National Defense Authorization Act (NDAA) a été rédigé en secret par le Sénateur démocrate du Michigan, Carl Levin, et le Sénateur républicain de l'Arizona, John McCain.
« Le Sénat s'apprête à voter pour décider si oui ou non le Congrès va donner à ce président , et à chaque futur président, le pouvoir de donner l'ordre à l'armée de capturer et emprisonner des civils sans accusation ni procès civil partout dans le monde, écrit Chris Anders, du Washington Legislative Office sur le site de l'ACLU.
La Maison-Blanche et le Secrétariat à la Défense ont émis des réserves en ce qui concerne la détention à durée indéterminée. La Maison Blanche menace de mettre son veto.
Source: l'express.be
 http://liesidotorg.wordpress.com/2011/11/29/syrie-une-situation-tres-inquietante/#comment-18659
While nearly all Americans head to family and friends to celebrate Thanksgiving, the Senate is gearing up for a vote on Monday or Tuesday that goes to the very heart of who we are as Americans. The Senate will be voting on a bill that will direct American military resources not at an enemy shooting at our military in a war zone, but at American citizens and other civilians far from any battlefield — even people in the United States itself.
Senators need to hear from you, on whether you think your front yard is part of a "battlefield" and if any president can send the military anywhere in the world to imprison civilians without charge or trial.
The Senate is going to vote on whether Congress will give this president—and every future president — the power to order the military to pick up and imprison without charge or trial civilians anywhere in the world. Even Rep. Ron Paul (R-Texas) raised his concerns about the NDAA detention provisions during last night's Republican debate. The power is so broad that even U.S. citizens could be swept up by the military and the military could be used far from any battlefield, even within the United States itself.
The worldwide indefinite detention without charge or trial provision is in S. 1867, the National Defense Authorization Act bill, which will be on the Senate floor on Monday. The bill was drafted in secret by Sens. Carl Levin (D-Mich.) and John McCain (R-Ariz.) and passed in a closed-door committee meeting, without even a single hearing.
I know it sounds incredible. New powers to use the military worldwide, even within the United States? Hasn't anyone told the Senate that Osama bin Laden is dead, that the president is pulling all of the combat troops out of Iraq and trying to figure out how to get combat troops out of Afghanistan too? And American citizens and people picked up on American or Canadian or British streets being sent to military prisons indefinitely without even being charged with a crime. Really? Does anyone think this is a good idea? And why now?
The answer on why now is nothing more than election season politics. The White House, the Secretary of Defense, and the Attorney General have all said that the indefinite detention provisions in the National Defense Authorization Act are harmful and counterproductive. The White House has even threatened a veto. But Senate politics has propelled this bad legislation to the Senate floor.
But there is a way to stop this dangerous legislation. Sen. Mark Udall (D-Colo.) is offering the Udall Amendment that will delete the harmful provisions and replace them with a requirement for an orderly Congressional review of detention power. The Udall Amendment will make sure that the bill matches up with American values.
In support of this harmful bill, Sen. Lindsey Graham (R-S.C.) explained that the bill will "basically say in law for the first time that the homeland is part of the battlefield" and people can be imprisoned without charge or trial "American citizen or not." Another supporter, Sen. Kelly Ayotte (R-N.H.) also declared that the bill is needed because "America is part of the battlefield."
The solution is the Udall Amendment; a way for the Senate to say no to indefinite detention without charge or trial anywhere in the world where any president decides to use the military. Instead of simply going along with a bill that was drafted in secret and is being jammed through the Senate, the Udall Amendmentdeletes the provisions and sets up an orderly review of detention power. It tries to take the politics out and put American values back in.
In response to proponents of the indefinite detention legislation who contend that the bill "applies to American citizens and designates the world as the battlefield," and that the "heart of the issue is whether or not the United States is part of the battlefield," Sen. Udall disagrees, and says that we can win this fightwithout worldwide war and worldwide indefinite detention.
The senators pushing the indefinite detention proposal have made their goals very clear that they want an okay for a worldwide military battlefield, that even extends to your hometown. That is an extreme position that will forever change our country.
Now is the time to stop this bad idea. Please urge your senators to vote YES on the Udall Amendment to the National Defense Authorization Act.
UPDATE: Don't be confused by anyone claiming that the indefinite detention legislation does not apply to American citizens. It does. There is an exemption for American citizens from the mandatory detention requirement (section 1032 of the bill), but no exemption for American citizens from the authorization to use the military to indefinitely detain people without charge or trial (section 1013 of the bill). So, the result is that, under the bill, the military has the power to indefinitely imprison American citizens, but it does not have to use its power unless ordered to do so.
But you don't have to believe us. Instead, read what one of the bill's sponsors,Sen. Lindsey Graham said about it on the Senate floor: "1031, the statement of authority to detain, does apply to American citizens and it designates the world as the battlefield, including the homeland."
There you have it — indefinite military detention of American citizens without charge or trial. And the Senate is likely to vote on it Monday or Tuesday.
Source: aclu.otg
Pour être informé des derniers articles, inscrivez vous :