254 démissions de dirigeants dans le monde financier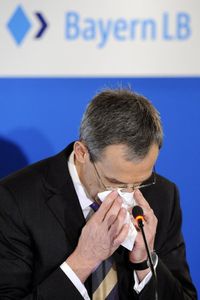 Il y a deux jours le décompte des démissions dans les banques mondiales, les maisons de placements et les fonds monétaires étaient établis à 177. AmericanKabuki et ses amis ont continués leur recherche et ce nombre s'établit aujourd'hui à 254.

Ce phénomène de démissions prend une ampleur jamais égalée et l'effet domino est impressionnant.

Les Galactiques ont longtemps prédits que nous allions être surpris par la rapidité avec laquelle les changements allaient se produire. Eh bien 177 à 254 démissions en un peu plus de deuxjours c'est très significatif !
254 RESIGNATIONS FROM WORLD BANKS, INVESTMENT HOUSES, MONEY FUNDS
I don't mind if you re-blog this listing. Save yourself the wear and tear on your karma and do me the favor of including http://americankabuki.blogspot.com in your reposting. Thanks to all who have caught minor errors. Special thank to Gabriel at Facebook Global Mass Resignations for some resignations I did not find in my searches. 
Abreviations used:
CEO = Chief Executive Officer
CFO = Chief Financial Officer
CIO = Chief Investment Officer
COO = Chief Operating Officer
INC = Incorporated (can be private held or publically traded shares) 
PLC = Public Limited Company (publicly traded shares can be listed or unlisted on stock market)
LTD = Limited Company (privately held)
LLC = American version of LTD, but can have a shareholder/member that is an INC, often hybrids of both
AG = German version of PLC
AB = Swedish version of PLC
SA = Society Anonymous in various latin languages - same as PLC
NV = Dutch version of PLC
BV = Dutch version of LTD 
LP = Limited Partners (partnership with limited liability)


Click here to scroll to latest additions to list, then scroll up.


9/01/11 (USA NY) Bank of New York Mellon Chief Robert P. Kelly Resigns in a Shake-UP
http://goo.gl/NdW7q
9/06/11 (BELGIUM) Dexia confirmed that its CEO Stefaan Decraene had left the company. Its exposures to sovereign debt in the PIIGS nations are larger than its core Tier 1 capital.
http://goo.gl/vuhvd
9/09/11 (GERMANY) European Central Bank (ECB) governing board member Jürgen Stark, who has resigned
http://goo.gl/t83S4
9/12/11 (HONG KONG) HSBC Group Hang Seng Bank Non-Executive Director Mark McCombe resigns
http://goo.gl/mCTgi
9/14/11 (USA NJ) Columbia Bank CEO Raymond G. Hallock Announces Retirement
http://goo.gl/UjUZY
9/18/11 (JORDAN) Central Bank governor Faris Sharaf resigns over policy 
http://goo.gl/8yU5N
9/20/11 (SCOTLAND) SCOTTISH WIDOWS (RETIREMENT INVESTMENT SAVINGS FUND) There could be no Scottish representative on the board of Lloyds Banking Group, owner of Bank of Scotland, in future after it announced the departure of Lord Sandy Leitch, the chairman of Scottish Widows and group deputy chairman.
http://goo.gl/Dx8qs
9/21/11 (AUSTRALIA & NZ) JP Morgan Australia and New Zealand Worldwide Securities Services CEO Jane Perry resigned
http://goo.gl/Qx0Va
9/25/11 (SWITZERLAND) UBS  CEO Oswald Gruebel quits over £1.5bn rogue trader crisis
http://goo.gl/WCeqB
9/25/11 (USA CA) Douglas E. Tow, Executive Vice President and Chief Credit Officer, will retire from the Company http://goo.gl/24aAU
9/28/11 (SWITZERLAND) SNB Bank Council: Fritz Studer resigns as per end-April 2012
http://goo.gl/7dNiD
9/29/11 (JAPAN) BLIFE Investment Corporation, Asset Manager Director Masaomi Yamadaira resigned.
http://goo.gl/Vsmk3
9/29/11 (UK) Barclays, Head of UK & European Retail Banking Deanna Oppenheimerresigned.
http://goo.gl/o63jO
10/03/11 (INDIA) The of Euram Bank Asia, president Arun Panchariya, has resigned after being implicated in a stock trading scandal in India. 
http://goo.gl/yh2bF
10/03/11 (GHANA) Intercontinental Bank Ghana Limited, Managing Director and CEO Albert Mmegwa resigned.
http://goo.gl/Vc252
10/03/11 (USA FL) Quantek Opportunity Fund, portfolio manager Javier Guerra. Arbitration awarded $1 million damages to Aris Multi-Strategy Fund. Quantek Asset Management made false statements to Aris.
http://goo.gl/udpBA
10/05/11 (UK) UBS co-chief François Gouws of global equities had resigned after last month's revelation of a $2.3 billion loss from unauthorized trading.
http://goo.gl/OuUjr
10/05/11 (UK) UBS co-chief Yassine Bouhara of global equities had resigned after last month's revelation of a $2.3 billion loss from unauthorized trading.
http://goo.gl/OuUjr
10/10/11 (BELGIUM) Dexia (Franco-Belgian bank) its chairman Jean-Luc Dehaene will give up his role on the board of Dexia's Belgian division, which is being sold to the Belgian state as part of a rescue deal, the group said on Monday.
http://goo.gl/vyldE
10/11/11 (CHINA) China Construction Bank Non-Executive Direct Sue Yang resigns for personal reasons.
http://goo.gl/ip8Un
10/14/11 (USA TX) Deutsche Bank Investment Advisor Griffin Perry resigns, SEC regulations prevented him from campaigning for his father Rick Perry's Presidential campaign.
http://goo.gl/R0PgH
10/23/11 (USA) Fairholme Capital Management LLC, Director Charles Fernandez stepped down for personal reasons. Fairholme Fund has lost 26 percent of its net asset value due to bets that have backfired on AIG Inc, Bank of America Corp and Florida-based landowner and developer St Joe Co.
http://goo.gl/vzTbY
10/24/11 (ICELAND) Icelandic State Financial Investments board members of Icelandic State Financial Investments have resigned following "outside interference" with their Sept. 30 decision to hire Pall Magnusson, the former political adviser to the island's industry minister, as chief executive officer. [names and positions have been requested from the reporter on 3/9/12]
http://goo.gl/lEpz2
10/24/11 (SINGAPORE) Keppel Corporation Limited, Teo Soon Hoe will resign from his role as group finance director Jan 1.
http://goo.gl/l90be
10/26/11 (INDIA) Beed District Bank (Coop Bank) CEO B S Deshmukh arrested for embezzling Maharashtra State Electricity Distribution Company Ltd payment deposits.
http://goo.gl/CXL7Z
10/26/11 (INDIA) Beed District Bank (Coop Bank) former CEO A N Kulkarni arrested for embezzling Maharashtra State Electricity Distribution Company Ltd payment deposits.
http://goo.gl/CXL7Z
10/27/11 (USA NY) Keefe, Bruyette & Woods Inc (KBW) CEO John Duffy stepped aside. Duffy has prostate cancer.
http://goo.gl/i1s3E
10/29/11 (CHINA) China Construction Bank Corp Chairman Guo Shuqing resigns
http://goo.gl/fdd9v
10/29/11 (CHINA) Agricultural Bank of China Ltd Chairman Xiang Junbo resigns
http://goo.gl/yWX9R
10/31/11 (BELGIUM) European Central Bank President Jean-Claude Trichet, resigns. 
http://goo.gl/ygG59
11/01/11 (INDIA) Beed District Bank (Coop Bank More directors resign [research still being conducted on the names]
http://goo.gl/HD8BQ
11/02/11 (UK) Lloyds Banking Group chief executive, António Horta-Osório, is to take leave of absence on health grounds for six to eight weeks, the BBC has reported. (STILL OUT AS OF 2/24/12 - DEFACTO RESIGNATION)
http://goo.gl/3L9gE
11/03/11 (POLAND) Nordea Bank Poland, Wlodzimierz Kicinski resigned from as President of the Management Board of Nordea Bank Poland as of the 10th of November.
http://goo.gl/oKUVZ
11/04/11 (USA NY) MF Global, Jon Corzine, stepped down as chairman and CEO, hired criminal attorney to represent him.
http://goo.gl/tUaVY
11/11/11 (HONG KONG) Goldman Sachs' Asia Pacific co-head Yusuf Alireza is retiring from the investment bank after 19 years
http://goo.gl/pejs3
11/10/12 (INDIA) UBS The head of India operations at UBS AG , Manisha Girotra, has resigned
http://goo.gl/3aTh2
11/15/11 (USA NY) Icahn Enterprises LP, senior managing director of health-care investing,Alex Denner, has resigned.
http://goo.gl/X1A4i
11/17/11 (NETHERLANDS) Syntrus Achmea (pensions manager), CIO Marjolein Sol is resigning. 
http://goo.gl/Xqxsr
11/21/11 (JAPAN) UBS's Japan Investment Banking Chairman Matsui to Resign
http://goo.gl/OiDiq
11/23/12 (USA SC & NC) Bank of the Carolinas, CFO Eric Rhodes resigns for personal reasons. Bank of the Carolinas was delisted from the NASDAQ on 3/9/12
http://goo.gl/oytcD
11/28/11 (LATVIA) Latvia's chief banking regulator, Irena Krumane, said she resigned today, a week after the state took over Latvijas Krajbanka AS (LKB1R), the Baltic News Service reported. The bank regulator suspended operations at Krajbanka, a subsidiary of Lithuania's Bankas Snoras AB, on Nov. 21 and said around 100 million lati ($191.8 million) was missing. The Lithuanian government seized Snoras on Nov. 16 saying assets reported on the lender's balance sheet were missing.
http://goo.gl/mUvLF
11/29/11 (USA) R. David Land Submits Resignation from the Boards of Directors of Peoples Bancorp. and Seneca National Bank
http://goo.gl/XncOc
11/29/11 (NORWAY) Carnegie ASA's co-head of investment banking in Norway, Cato Holmsen, has resigned 
http://goo.gl/utIfy
11/30/11 (LITHUANIA) Lithuania Central Bank, Governor Vitas Vasiliauskas fired Kazimieras Ramonas, head of the banking supervision department, after seizing Bankas Snoras AB, the country's third-biggest deposit bank.
http://goo.gl/EiqUC
12/02/11 (PAKISTAN) NIB Bank, Singapore forced resignation of CEO Khawaja Iqbal Hassan, for mismanagement
http://goo.gl/ojDcu
12/03/11 (USA SC) South Carolina's $25 billion pension fund chief investor Robert Bordenresigned. Borden's resignation comes as the SC Retirement System faces a $13 billion deficit, prompting state lawmakers to call for a massive overhaul of the system.
http://goo.gl/ypK2G
12/05/11 (BERMUDA) HSBC Bermuda Ltd, chairman of the board and director John Campbell resigns 
http://goo.gl/peFGD
12/05/11 (BERMUDA) HSBC Bermuda Ltd, CEO  Philip Butterfield retires 
http://goo.gl/peFGD
12/06/11 (USA ) Western Liberty Bancorp CFO George Rosenbaum has resigned. 
http://goo.gl/ozuwB
12/08/11 (USA) Fidelity Global Special Situations Fund, manager Jorma Korhonen resigned.
http://goo.gl/a7Rhw
12/14/11 (MAURITIUS) African Alliance Africa Pioneer Fund I (the "Fund"), Portfolio ManagerPaul David Austin Clark resigned
http://goo.gl/YiagF
12/15/11 (UK) Coutts [private bank] Senior private banker James Fleming resigns
http://goo.gl/ANN5B
12/19/11 (CANADA) Holloway Lodging Real Estate Investment Trust (a REIT) CEO Glenn Squires has resigned
http://goo.gl/8rAKb
12/19/11 (JAPAN) Citibank Japan CEO, Darren Buckley, resigns after Citibank was punished by regulators for the third time in seven years.
http://goo.gl/ScT47
12/19/11 (DENMARK) Danske Bank Peter Straarup, who will retire February 15
http://goo.gl/06c2b
12/19/11 (DENMARK) Danske Bank Eivind Kolding has resigned as Chairman of the Board of Directors and from the three board committees on which he served, He continues as member of Danske Bank's Board of Directors until he assumes the position of Chairman of the Executive Board on 15 February 2012. On the same day, at the latest, Eivind Kolding will resign from the A.P. Moller-Maersk Group.
http://goo.gl/06c2b
12/20/11 (USA MA) Century Bancorp, Inc., Director Roger S. Berkowitz resigned.
http://goo.gl/bbdeT
12/23/11 (USA VA)  Virginia National Bank (VNB) Chairman Mark Giles quits 
http://goo.gl/dFDpH
12/23/11 (USA VA)  Virginia National Bank (VNB) Board Member Claire Gargalli quits
http://goo.gl/kowkW
12/23/11 (USA VA)  Virginia National Bank (VNB) Board Member Leslie Disharoon quits 
http://goo.gl/kstLp
12/23/11 (USA VA)  Virginia National Bank (VNB) Board Member Neal Kassell quits 
http://goo.gl/NrrPZ
1/01/12 (NIGERIA) United Bank for Africa Plc Victor Osadolor resigns
http://goo.gl/b6AoA
1/01/12 (ISRAEL) Israel's Bank Leumi CEO Galia Maor steps down after 16 years
http://goo.gl/xwlFt
1/03/12 (USA VA) Suffolk Bancorp president and CEO J. Gordon Huszagh steps down
http://goo.gl/joExI
1/03/12 (USA WI) Michael Falbo, president and CEO of Southport Bank, has resigned just six months after accepting the position.
http://goo.gl/DP1uK
1/03/12 (UK) Arbuthnot Banking Group: Neil Kirton resigned from the Board
http://goo.gl/SKE7j
1/03/12 (UK) Arbuthnot Banking Group: Atholl Turrell left the Board.
http://goo.gl/bzZtQ
1/05/12 (UK) Saunderson House [Private Bank] CEO Nick Fletcher steps down
http://goo.gl/zvo1L
1/07/12 (UK) Arab Banking Corporation Intl. Bank (ABCIB) Manama, Bahrain: ABCIBannounced retirement of CEO Nofal Barbar from its London office.
http://goo.gl/yF0Mm
1/09/12 (SWITZERLAND) SNB Chairman Philipp Hildebrand resigns
http://goo.gl/5qsUu
1/09/12 (USA WASHINGTON DC) Whitehouse former banker and Chief of Staff William M. Daley resigned
http://goo.gl/34F0B
1/11/12 (KAZAKHSTAN) BTA Bank, CEO Marat Zairov resigns for health reasons.
http://goo.gl/yAHgr
1/12/12 (USA) Goldman Sachs, Co-Head Securities Trading Edward K. Eisler retires 
http://goo.gl/i2TVk
1/12/12 (USA) Goldman Sachs, Co-Head Securities Trading David B. Heller retires 
http://goo.gl/i2TVk
1/13/12 (IRELAND) National Asset Management Agency, head of lending Graham Emmett is resigning 
http://goo.gl/GN3h3
1/17/12 (HONG KONG) Oversea-Chinese Banking Corporation Limited (OCBC Bank) CEODavid Conner retires.
http://goo.gl/83Z1i
1/19/12 (UK) Santander, senior director Americas division Francisco Luzón is retiring with a pension pot of about €56m, a package whose generous size is expected to reignite controversy over bankers' remuneration.
http://goo.gl/XMRvP
1/19/12 (EGYPT) Beltone Financial Holding (BTFH) Alaa' Sabaa resigned from board of directors.
http://goo.gl/5Eze1
1/19/12 (EGYPT) Beltone Financial Holding (BTFH) Wael EL Mahgary resigned from board of directors.
http://goo.gl/5Eze1
1/20/12 (JAPAN) Normura's head of wholesale banking Jasjit Bhattai quits
http://goo.gl/6FuWe
1/20/12 (SOUTH AFRICA) First National Bank's sharia banking division is in a state of flux after it was hit by a corporate governance scandal in which its chief executive, Ebi Patel, was put on "special leave" for almost a month while an internal probe was conducted. Patel has been reinstated, but is facing disciplinary action.  Islamic finance forbids the payment and receipt of interest (riba), and investment in some industries. Sharia law states that interest-bearing transactions result in economic ills such as unemployment and high inflation. Trading in derivatives and speculative investment are also forbidden. Sharia law requires all transactions to be backed by tangible assets. 
http://goo.gl/NmGJP
1/20/12 (USA) TIAA-CREF executive vice president and president of Asset Management,Scott C. Evans resigned
http://goo.gl/f6qLs
1/21/12 (UK) Butterfield Private Bank head Danny Dixon Steps Down
http://goo.gl/sdY1p
1/21/12 (SINGAPORE) ANZ Asia's private banking head Nina Aguas resigns as managing director of Asia-Pacific private banking.
http://goo.gl/hlHvG
1/21/12 (GREECE)  Institute of International Finance negotiator Charles Dallara quits
http://goo.gl/NbPlt
1/21/12 (GREECE)  Institute of International Finance negotiator Jean Lemierre quits
http://goo.gl/E3AkE
1/21/12 (USA CA) Nara Bancorp (Now called BBCN) President and CEO Min Kim Resigns
http://goo.gl/rcfJ3
1/22/12 (KENYA) National Bank of Kenya's (NBK) managing director, Mr Reuben Marambii, will resign before year end.
http://goo.gl/c2n7r
1/24/12 (USA) Fortress Investment Group, CEO Daniel Mudd will resign, a month after he took a leave of absence from the company amidst charges over his role in understating Fannie Mae's exposure to subprime mortgages.
http://goo.gl/tXQwP
1/27/12 (SOUTH AFRICA) ABSA Group COO Alfie Naidoo would be leaving to pursue personal interests
http://goo.gl/cVWnA
1/27/12 (SOUTH AFRICA) ABSA Group chief marketing and communication officer Happy Ntshingila, will be taking up an "exciting position" outside banking
http://goo.gl/cVWnA
1/27/12 (SOUTH AFRICA) ABSA Group CEO Daphne Motsepe retires at the end of April after a 10-year career at the bank.
http://goo.gl/cVWnA
1/29/12 (PORTUGAL) Banco Santander Totta SA executive chairman Nuno Manuel da Silva Amado has resigned
http://goo.gl/Glvdn
1/29/12 (NEW ZEALAND) New Zealand Reserve Bank Gov Alan Bollard to Step Down
http://goo.gl/BwUgv
1/30/12 (UK) British Private Equity and Venture Capital Association (BVCA) COO Andrew Graham steps down
http://goo.gl/4SDW8
1/31/12 (SCOTLAND) Royal Bank of Scotland former CEO Fred Goodwin Stripped of Knighthood
http://goo.gl/CoLVS
2/01/12 (SOUTH AFRICA) ABSA [Barclay's Bank] deputy CEO Louis von Zeuner resigns
http://goo.gl/IP8nH
2/01/12 (UK) Lloyds Bankging Group head of wholesaleTruett Tate quits
http://goo.gl/OqRVo
2/01/12 (UK) Llyods Banking Group Tim Tookey leaving end of February
http://goo.gl/vjO5M
2/02/12 (VENEZUELA) Banking Crisis Arne Chacon arrested for Banking Corruption
http://goo.gl/bb5sh
2/02/12 (USA) American Perspective Bank, President and CEO Thomas J. Beene resigned.
http://goo.gl/K66eb
2/03/12 (UK) VinaCapital Vietnam Opportunity Fund Ltd, Non-Executive Director Horst Geicke has resigned.
http://goo.gl/r955T
2/03/12 (UK) UBS London trader, Kweku M. Adoboli, was arrested and charged with fraud and false accounting, forcing UBS to announce a $2.3 billion trading loss. 
http://goo.gl/ClTaq
2/05/12 (USA - NY) Morgan's investment banking chairman Joseph Perella quit
http://goo.gl/pG2jF
2/05/12 (USA - NY) Morgan Stanley investment banking Tarek Abdel-Meguid quit
http://goo.gl/bRv9K
2/06/12 (INDIA) Dhanlaxmi Bank CEO Amitabh Chaturvedi quits:
http://goo.gl/OhCEb
2/07/12 (USA) Bank Of America's Mortgage Business Chief Barbara Desoer Retires
http://goo.gl/i7AUY
2/07/12 (INDIA) Kotak Mahindra Bank Falguni Nayar quits
http://goo.gl/fP03J
2/07/12 (IRAN) Iran denies central bank resignation rumor (don't believe until its denied?)
http://goo.gl/PiQSy
2/08/12 (SOUTH AFRICA) Standard Bank Group Ltd - Resignation of Group Secretary Loren Wulfsohn
http://goo.gl/K1pfn
2/09/12 (VATICAN) Four Priests Charged In Vatican Banking Scandal (names not known)
http://goo.gl/tW8Sj
2/09/12 (UKRAINE) National Bank of Ukraine deputy governor Volodymyr Krotiuk quits
http://goo.gl/8BuXy
2/09/12 (UK) JP Morgan Chinese Investment Trust PLC, non-executive Director Madam Yujiang Zhao resigned
http://goo.gl/CPO23
2/09/12 (UK) Alliance Trust Savings (ATS), Robert Burgess is stepping down as CEO.
http://goo.gl/ohHG3
2/10/12 (KOREA) Korea Exchange Bank chief Larry Klane steps down
http://goo.gl/DBKdc
2/10/12 (INDIA) Tamilnad Mercantile Bank CEO A K Jagannathan resigns
http://goo.gl/wMl5g
2/13/12 (KUWAIT) Kuwait Central Bank CEO Sheikh Salem Abdulaziz Al Sabbah resigns
http://goo.gl/GFvIy
2/13/12 (UK) Goldman Sachs confirmed on Monday that George N. Mattson, one of the firm's top deal makers in the industrial sector, will retire. He was a senior relationship banker with a client list that included General Motors, General Electric and Caterpillar.
http://goo.gl/vgnq2
2/14/12 (NICARAQUA) Nicaraqua Central Bank President Antenor Rosales resigns
http://goo.gl/iQ0n8
2/14/12 (UK) Social finance pioneer Malcolm Hayday quits Charity Bank
http://goo.gl/uHp6C
2/14/12 (PAKISTAN) National Bank of Pakistan (NBP) chairman Syed Ali Raza resigned
http://goo.gl/scexo
2/14/12 (USA NY) Goldman Sachs Jeffrey Moslow resigns, an investment banker to companies such as Tyco International Ltd, Nstar, the Boston-based utility, and defense contractor Dyncorp International Inc.
http://goo.gl/7h4O7
2/15/12 (WORLD) World Bank CEO Zoellick resigns
http://goo.gl/dHDSm
Did the White House tell the World Bank president that he's out?
http://goo.gl/wUOgb
2/15/12 (CHINA) Morgan non-executive chairman Stanley Stephen Roach will be retiring. 
http://goo.gl/MQeGW
2/15/12 (SLOVENIA) Nova Kreditna Banka Maribor CEO Andrej Plos resigns
http://goo.gl/SNsVI
2/15/12 (SLOVENIA) Nova Ljubljanska Banka d.d. CEO Bozo Jasovic resigns
http://goo.gl/TyYiJ
2/16/12 (USA IL) Deerfield Capital Management LLC, CEO Daniel Hattori and CEO of CIFC Corp resigned.
http://goo.gl/LLNnD
2/16/12 (USA IL) Deerfield Capital Management LLC, COO Luke Knecht and CEO of CIFC Corp, resigned both positions.
http://goo.gl/LLNnD
2/16/12 (UK) The Financial Services Authority Margaret Cole is to step down
http://goo.gl/yT6rS
2/16/12 (GHANA) Databank Group Executive Chair Ken Ofori-Atta steps down
http://goo.gl/c7PtU
2/16/12 (SAUDI ARABIA) Saudi Hollandi Banks Managing Director Geoffrey Calvert Quits
http://goo.gl/CtmOU
2/16/12 (AUSTRALIA) ANZ Bank Australia CFO Peter Marriott resigns
http://goo.gl/I7Alo
2/16/12 (UK) Royal Bank of Scotland Sr Equities Trader Jason Edinburgh Arrested
http://goo.gl/WczHh
2/16/12 (UK) Royal Bank of Scotland director equities bus. Vincent Walsh director Arrested
http://goo.gl/I7Alo
2/16/12 (UK) Marex Spectron senior trader Michael Elsom Arrested
http://goo.gl/I7Alo
2/16/12 (AUSTRALIA) Royal Bank of Scotland Austraila CEO Stephen Williams resigns
http://goo.gl/4r16D
2/17/12 (PAKISTAN) PICIC Asset Management Company Limited CFO Ahmed Raza resigns
http://goo.gl/K8A2I
2/17/12 (USA NY) Goldman Sachs CEO Lloyd Blankfein out as by summer
http://goo.gl/UjpzD
2/17/12 (SWITZERLAND) SNB Council President Hansueli Raggenbass resigns
http://goo.gl/1n1Nr
2/17/12 (UK) Insight Investment, asset manager Mike Pinggera has resigned..
http://goo.gl/uDplK
2/18/12 (PAKISTAN) The Bank of Azad Jammu and Kashmir executive Zulfiqar Abbasi resigns 
http://goo.gl/G0woP
2/20/12 (RUSSIA) Head of Russian Bank Regulator Gennady Melikyan Steps Down
http://goo.gl/Unuez
2/20/12 (SWITZERLAND) Credit Suisse Chief Joseph Tan resigns
http://goo.gl/F5twL
2/20/12 (ISRAEL) Bank Leumi le-Israel Ltd: Zvi Itskovitch resigns
http://goo.gl/aA0RW
2/20/12 (USA WA) First Financial Northwest Director Spencer Schneider Quits
http://goo.gl/6Dj0i
2/21/12 (ARGENTINA) Central Bank of Argentina (BCRA) Gen Mgr Benigno Velez, resigns
http://goo.gl/DuMrm
2/21/12 (BANGLADESH) Nitol Insurance Co. Ltd director Abdul Matlub resigns
conflict of interest with director seat on unknown bank
http://goo.gl/aEmwB
2/21/12 (BANGLADESH) Nitol Insurance Co. Ltd director Selima Ahmad resigns
conflict of interest with director seat on unknown bank
http://goo.gl/aEmwB
2/21/12 (BANGLADESH) Nitol Insurance Co. Ltd director Abdul Musabbir Ahmad resigns
conflict of interest with director seat on unknown bank
http://goo.gl/aEmwB
2/21/12 (BANGLADESH) City General Insurance Co. Ltd director Geasuddin Ahmad resigns
conflict of interest with director seat on unknown bank
http://goo.gl/aEmwB
2/21/12 (BANGLADESH) Social Islami Bank Limited director Taslima Akter resigns
conflict of interest with director seat on Eastland Insurance Company Limited
http://goo.gl/aEmwB
2/21/12 (JAPAN) CITIBANK JAPAN: Bakhshi is taking over duties from Brian Mccappin, who the bank said in December would resign after the unit was banned for two weeks from trading tied to the London and Tokyo interbank offered rates.
http://goo.gl/Z1rnw
2/22/12 (HONG KONG) DZ BANK project finance head Tim Meaney quits
http://goo.gl/ppKno
2/22/12 (USA NY) Goldman Sachs Hedge Fund Group Chief Howard Wietschner to Retire
http://goo.gl/x4Zsr
2/22/12 (UK) UBS AG's (UBSN) Doug McCutcheon, head of Healthcare Banking in Europe, Middle East, Africa and Asia-Pacific region, has left Switzerland's biggest bank after 25 years at the firm.
http://goo.gl/Dnxqh
2/23/12 (UK) Goldman Sachs Nordic M&A banker Luca Ferrari has decided to retire from the firm, clients included the largest telecommunications operator in Spain the Spanish telecommunications. 
http://goo.gl/qmCh3
2/23/12 (SOUTH AFRICA) Richard Gush resigns from Standard Bank
http://goo.gl/DTL5S
2/23/12 (SCOTLAND) Royal Bank of Scotland Group director John McFarlane resigns.
http://goo.gl/KoEUI
2/24/12 (GUERNSEY) Spearpoint Limited (SPL) Investment Funds, director Mike Kirbyresigns for business reasons.
http://goo.gl/9stPB
2/24/12 (INDIA) Breaking: ICICI Bank GC Pramod Rao resigns
http://goo.gl/5eUqU
2/24/12 (HONG KONG) Citigroup Pvt Bank Global Real Estate Kwang Meng Quek Resigns
http://goo.gl/JIC9A
2/24/12 (NEW ZEALAND) FSF Executive Director Kirk Hope resigns
http://goo.gl/6UJau
2/24/12 (USA NY) Evercore Partners Head Eduardo Mestre steps down
http://goo.gl/n5RLY
2/25/12 (AUSTRALIA AND NZ) Goldman Sachs Chairman Stephen Fitzgerald quits
http://goo.gl/nMTLW
2/27/12 (GERMANY) Deutsche Bank Americas chief  Seth Waugh steps down
http://goo.gl/8lxSw
2/27/12 (BAHRAIN) Khaleeji Commercial Bank CEO Ebrahim Ebrahim quits
http://goo.gl/yKjzL
2/27/12 (FRANCE) Societe Generale's Investment Banking Chief Michel Péretié Steps Down
http://goo.gl/IJ5Lw
2/27/12 (MALAYSIA) Elaf Bank CEO Dr El Jaroudi resigns
http://goo.gl/eVCS5
2/27/12 (GERMANY) Equiduct chairman Artur Fischersteps down
http://goo.gl/Q0dWR
2/27/12 (BAHRAIN) - Mumtalakat Holding [Sovereign Wealth Fund] CEO Al Zain resigns
http://goo.gl/hhHSm
2/27/12 (IRAN) Bank Melli CEO Mahmoud Reza Khaavari Resigns - Flees to Canada!
http://goo.gl/DDEUk
2/27/12 (IRAN) Bank Saderat CEO Mohammad Jahromi resigns
http://goo.gl/ZD0mc
2/27/12 (UK) Lloyds Banking Group Glen Moreno steps down
http://goo.gl/dsXcE
2/28/12 (HONG KONG) Hang Seng Bank CEO Margaret Leung Ko May-yee quits
http://goo.gl/Uo800
2/28/12 (CHINA) Bank of China International ECM global head Marshall Nicholson quits
http://goo.gl/26MYq
2/28/12 (SINGAPORE) DBS security head Jim Pasqurell quits, cites health reasons
http://goo.gl/NDJze
2/28/12 (HONG KONG) Bank of America's Asia-Pac. mrkts Brian Canniffe quits
http://goo.gl/cRkCP
2/28/12 (BELGIUM) KBC's CEO Jan Vanhevel is to retire after a career spanning 41 years.
http://goo.gl/1rCWd
2/28/12 (CANADA) Ontario Securities Commission chairwoman Peggy-Anne Brown quits
http://goo.gl/HIYXv
2/28/12 (AUSTRALIA) Bank manager Colin John Carleton jailed nine years for $3m theft
http://goo.gl/ggPvq
2/28/12 (SRI LANKA) Sri Lanka Com Bank CEO Amitha Gooneratne retires
http://goo.gl/YxvNA
2/28/12 (SOUTH AFRICA) REDEFINE INCOME FUND director Gerald Leissner resigns
http://goo.gl/F0UgN
2/28/12 (ITALY) UNICREDIT: Chairman Dieter Rampl not available for a new mandate
http://goo.gl/7aLRU
2/28/12 (UK) Bank of England Sir David Lees re-appointed Chair of Bank of England and gives notice of resignation at end of 2013
http://goo.gl/LkJhV
2/28/12 (IRELAND) State Street Global Advisors Cash Funds plc Director Keith Walshresigns
http://goo.gl/n6uoM
2/29/12 (AUSTRALIA) Perpetual portfolio manager Matt Williams steps down
http://goo.gl/Jh9jd
2/29/12 (UK) Honister Capital CEO Richard Pearson steps down
http://goo.gl/014or
2/29/12 (GUYANA) National Investment and Commercial Investments Ltd. (NICIL), Executive Director Winston Brassington resigns, "We feel that (Winston) Brassington knows everything…A to Z about all the transactions," said Chairman of the Alliance for Change (AFC), Khemraj Ramjattan, as he sounded a warning that controversial figure could be subpoenaed to appear before the Parliamentary Economic Sector Committee.
http:// goo.gl/L7I35
3/01/12 (MALAYSIA) RHB Bank Bhd deputy managing director Renzo Viegas quits
http://goo.gl/wACrI
3/01/12 (ITALY) Italian Banking Association Chairman Giuseppe Mussari talks to reporters in Rome after he and seven other executives offered to resign in protest over new banking-fee rules included in the government's legislation on boosting competition.
http://goo.gl/3llyT
3/01/12 (USA FL) Florida Venture Forum [Venture Capital] Exec Dir Robin Lester quits
http://goo.gl/nA8g9
3/01/12 (USA NY) PineBridge Investments said Win Neuger has resigned as chief executive. Neuger helped build AIG's third party asset management business, PineBridge still manages AIG assets
http://goo.gl/SI7kT
3/01/12 (SINGAPORE) UBS Singapore - James Tulley is leaving Switzerland's largest bank, it is not clear where he is going.
http://goo.gl/BGugF
3/01/12 (USA NH) Piscataqua Savings Bank CEO Jay Gibson retires
http://goo.gl/uEqDV
3/01/12 (ICELAND) Iceland's Financial Supervisory Authority (FSA) fired its director Gunnar Andersen 
http://goo.gl/VG9q5
3/02/12 (CHINA) China Construction Bank Corp, assistant general manager and head of corporate banking Mickey Mehta quits
http://goo.gl/B9dR0
3/02/12 (USA NY) Deutsche Bank Student Loan CEOJohn Hupalo quits to start student loan counseling firm.
http://goo.gl/8kZuc
3/02/12 (UK) Bank of England Sir Mervin King resigns in June, Lord Sassoon tipped as replacement.
http://goo.gl/ZEUwf
3/02/12 (BOTSWANA) Barclays Bank Botswana managing director Wilfred Mpai forced to resign
http://goo.gl/npBe2
3/02/12 (HONG KONG) New Century Group Hong Kong Ltd [investment house and leisure group] Wilson Ng resigns 
http://goo.gl/wFSV8
3/02/12 (USA NY) Citigroup Richard Parsons to step down as chairman
http://goo.gl/BhZ0F
3/03/12 (AUSTRIA) Volksbank AG (VBAG) The contract of CEO Gerald Wenzel will not be extended
http://goo.gl/w99tD
3/03/12 (ETHIOPIA) Dashen Bank's board dismisses president Leulseged Teferi
http://goo.gl/Y801M
3/03/12 (RUSSIA) Enza Capital KK, Wealthy British banker Philip Townsend (Baron Townsend of Rathmore) and his wife killed at Estonia holiday home  ⑆44541444⑈
http://goo.gl/GSOUN and http://goo.gl/x94ID and http://goo.gl/gGgLP
3/04/12 (KOREA)  Hana Financial Group Inc, prominent figure in the history of South Korean finance Kim Seung-yu , resigns
http://goo.gl/fmNxY
3/04/12 (USA NY) JP Morgan prop trading chief Mike Stewart quits
http://goo.gl/gubPj
3/05/12 (SAUDI ARABIA) Al Rajhi Bank CEO Abdullah bin Sulaiman Al Rajhi has resigned
http://goo.gl/pNx0l
3/5/12 (UK) Jupiter fund co-manager Tony Nutt steps down
http://goo.gl/RPqOp
3/05/12 (UK) Jupiter fund co-manager John Hamilton steps down
http://goo.gl/RPqOp
3/05/12 (NEW ZEALAND) Insured Group Bill Jeffries has resigned as chairman and director 
http://goo.gl/gX7wu
3/05/12 (USA) Reliance Bancshares chairman Patrick Gideon resigned
http://goo.gl/u6BT4
3/06/12 (FRANCE) Blackstone Group's Paris office leader Jean-Michel Steg will step down 
http://goo.gl/w3Ca5
3/06/12 (JAMAICA) Jamaica Money Market Brokers Limited, Patricia Sutherland has resigned as Executive Director
http://goo.gl/oMwv6
3/06/12 (JAMAICA) Jamaica's Financial Services Commission (FSC), Executive directorRohan Barnett, has resigned the position, the Ministry of Finance, Planning and the Public Service announced this afternoon.  
http://goo.gl/FBwFo
3/06/12 (USA PA)  USA Technologies Inc Bradley M. Tirpak, a nominee of Shareholder Advocates for Value Enhancement,has resigned from its board subsequent to a settlement agreement with the investing group, according to an SEC filing. Provides a network of wireless non-cash transactions, associated financial/network services and energy management. It provides networked credit card and other non-cash systems in the vending, commercial laundry, hospitality and digital imaging industries. 
http://goo.gl/8oi7C
3/06/12 (UK) Sterling Green Group has announced that Philip Kanas, a non-executive director, has decided to resign
Sterling Green Group PLC became a cash shell following the disposal of their subsidiaries Taxdebts Ltd, Sterling Green (Mortgages) Ltd and the back books of the clients of Sterling Green Ltd. during December 2011.  
http://goo.gl/qc3jB
3/06/12 (UK) Aberdeen Asset Management, non-executive director Gerhard Fusenig has resigned from the board. 
http://goo.gl/ZIkvQ
3/07/12 (GERMANY) Deutsche Bank AG's (DB) Chief Risk Officer Hugo Baenzigeri to resign 
http://goo.gl/MWqsH
3/07/12 (GERMANY) Deutsche Bank AG's (DB) Chief Operating Officer Hermann-Josef Lamberti to resign 
http://goo.gl/MWqsH
3/07/12 (UNITED ARAB EMIRATES) Dubai Mercantile Exchange announced Thomas Leaverwill step down as CEO
http://goo.gl/rfhWN
3/07/12 (SCOTLAND) Macfarlane Group Chairman Archie Hunter to step down after 8 years of service
http://goo.gl/RHllr
3/07/12 (USA) BlackRock Emerging Markets Fund co-head Daniel Tubbs, has left the group to pursue other opportunities.
http://goo.gl/CpEzZ
3/07/12 (UK) Goldman Sachs (GSI) Christopher French resigns from board 
http://goo.gl/3yQDS
3/07/12 (UK) Goldman Sachs (GSI) David Wildermuth resigns from board 
http://goo.gl/3yQDS
3/07/12 (UK) Goldman Sachs (GSI) Matthew Westerman resigns from board
http://goo.gl/3yQDS
3/07/12 (UK) Goldman Sachs (GSI) co-head of global mergers and acquisitions Yoel Zaouiresigns
http://goo.gl/3yQDS
3/07/12 (UK) Goldman Sachs (GSI) Phil Beatty resigned as head of European power and natural-gas trading
http://goo.gl/jqbYY
3/07/12 (SINGAPORE) Nikko Asset Management Timothy McCarthy is retiring as chairman and CEO at the end of the month
http://goo.gl/v8tcT
3/07/12 (HONG KONG) UBS Senior Asia Economist Jonathan Anderson Departs
http://goo.gl/09VqT
3/07/12 (HAITI) FORMER DIRECTOR HAITI CENTRAL BANK SLAIN!  ⑆44541444⑈
 http://goo.gl/UtVz3
3/07/12 (FRANCE) Société Générale Private Banking, Daniel Truchi is to step down as head of Société Générale Private Banking
http://goo.gl/XhgJ9
3/07/12 (AUSTRALIA) Customers Ltd, Tim Wildash has cashed himself out as chief executive of Australia's largest ATM operator
http://goo.gl/eZJMb
3/07/12 (USA CA) CALSTRS, Pascal Villiger, senior private equity portfolio manager at the $145 billion California State Teachers' Retirement System resigns
http://goo.gl/ub0ke
3/07/12 (USA) Astaire quits Bank of America Merrill to dance to Barclays Capital's tune
http://goo.gl/Zv6Ny
3/08/12 (USA NY) Schroders, CIO Alan Brown is steps down 
http://goo.gl/ZTtYo
3/08/12 (USA IL) CBOE Executive Patrick Fay Put on Leave Amid SEC Probe
http://goo.gl/x5snO
3/08/12 (USA NH & RI) Bristol County Savings Bank president E. Dennis Kelly retires after 35 years
http://goo.gl/8KVKn
3/08/12 (GERMANY) Clearstream Banking AG – Katja Rosenkranz To Leave Deutsche Börse Group [stockmarket] 
http://goo.gl/RiVNi
3/08/12 (UK) B&CE CEO Brian Griffiths is to retire later this year
http://goo.gl/AV7Sk
3/08/12 (UK) Invesco Trimark Ltd, portfolio manager Dana Love has resigned.
http://goo.gl/MyQ90
3/09/12 (MONGOLIA) Mongol Bank President Alag Batsukh submitted his resignation letter to Speaker of Parliament D. Demberel at the end of last month. He described his reason for resigning as a lack of support by Parliament. 
http://goo.gl/RDmNx
3/09/12 (MONGOLIA) Asia Pacific Securities, General Manager Narantuguldur Saijrakhrecently resigned, to focus on his role as Director of Khan Investment Management, investment advisor to the Khan Mongolia Equity Fund - the first open-ended investment vehicle with monthly dealing that invests in Mongolia related equities listed both domestically and internationally.
http://goo.gl/2T4R6
3/09/12 (SOUTH AFRICA) African Bank Investments Ltd, company secretaryYashmita Mistryhas resigned 
http://goo.gl/tHRH4
3/09/12 (Côte d'Ivoire) Banque Central des Etats d'Afrique de l'Ouest (BCEAO) The Ivorian governor of the multi-billion dollar West Africa Francophone bank, Philippe-Henry Dacoury-Tabley, resigned his post.
http://goo.gl/CevLn
3/09/12 (UK) Lazard , co-head of investment banking Alexis de Rosnay quits. De Rosnay specialises in the healthcare sector, he has advised Teva Pharmaceutical and Novartis.
http://goo.gl/3gzbi
3/09/12 (UK) Deutsche Bank PWM, UK head of portfolio management Martyn Surguyresigned.
http://goo.gl/5Ti2p
3/09/12 (UK) Deutsche Bank PWM, head of discretionary management, Kypros Charalambous, having also stepped down. 
http://goo.gl/5Ti2p
3/09/12 (HONG KONG) Bank of America Merrill Lynch, K.J. Kim, responsible for Southeast Asia, resigned
http://goo.gl/sE7xh
3/09/12 (HONG KONG) Bank of America Merrill Lynch, Jimmy Choi, who was in charge of high-yield debt, resigned.
http://goo.gl/sE7xh
3/09/12 (HONG KONG) Bank of America Merrill Lynch, Leonard Ng, a vice-president in Hong Kong resigned.
http://goo.gl/sE7xh
3/09/12 (AUSTRALIA) Bank of Queensland CFO Ram Kangatharan plans to leave the bank.
http://goo.gl/ieNea
3/09/12 (USA) Cerberus Capital Management LP, CEO Robert Nardelli resigns.
http://goo.gl/9uKVx
3/10/12 (AUSTRALIA) WESTPAC, Rob Chapman opted to quit running its regional subsidiary St George Bank.
http://goo.gl/G6MD
3/10/12 (TURKEY) Garanti Bank, The deputy CEO of Turkish lender Tolga Egemen, has decided to quit.
http://goo.gl/vAMzV
█▓▒░   End of list as of 3/8/12  ░▒▓█
Source:
http://americankabuki.blogspot.com.au/p/131-resignations-from-world-banks.html
Pour être informé des derniers articles, inscrivez vous :