"Occupez les maisons", le nouveau mot d'ordre des indignés américains. Bravo !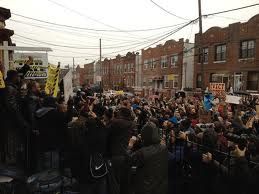 C'est une maison de briques au 702 Vermont Street, à Brooklyn. Elle a été saisie il y a trois ans par la Bank of America et n'a jamais rouvert ses portes. Depuis mardi toutefois, la maison est devenue le nouveau lieu de ralliement pour les militants d'Occupy Wall Street. 

Accrochées aux fenêtres, des banderoles proclament : "Saisissez les banques pas les gens". A l'intérieur, des dizaines de personnes s'activent et disent "préparer la maison" pour y installer une famille de sans abris. "C'est un scandale que les banques aient explulsé les gens de leurs maisons et les laissent vides alors que des millions d'Américains sont dans la rue", assure Sean, un étudiant, "il faut reprendre ces maisons et les redonner au peuple". 

Trois semaines après l'expulsion forcée de Zuccotti Park, dans le sud de Manhattan, et après la multiplication des évictions à travers les Etats-Unis, Occupy Wall Street tente donc de diversifier ses actions pour continuer à faire entendre sa voix. La journée "Occupez les maisons" s'est déroulée dans 25 villes aux Etats-Unis, avec le soutien de plusieurs groupes de défense des sans abris. 

Occupy Wall Street a toutefois perdu en visibilité depuis quelques semaines et s'interroge sur les meilleurs moyens de poursuivre son mouvement et notamment de peser sur la campagne présidentielle américaine. 

Mardi, Barack Obama a évoqué la colère des 99% dans un discours au Kansas. Mais OWS doit toujours décider de soutenir ou pas certains candidats pour les élections et d'établir un programme en cinq ou six points à soumettre à tous d'ici le début de l'année prochaine.
Source: Libération.fr
Protesters bout to start march to Alfredos house, 702 Vermont St. Brooklyn
This is what you're supposed to do when someone moves into the community
"O 'Unprecedented' Occupation of Home Also Illegal
Occupy movement repairing two homes they 'reclaimed'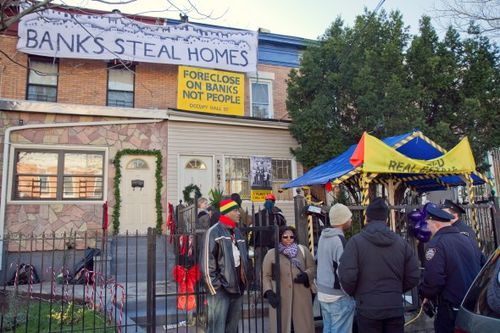 NEW YORK—Occupiers set to work repairing a home in East Brooklyn they've "reclaimed" from foreclosure on Dec. 8, while another reclaimed home's location has not been disclosed.
After drawing local, national, and international attention to issues including corrupt banking and government practices, the next issue the Occupy movement has rallied around is foreclosed homes.
Home occupation
In Brooklyn on Dec. 6, Tasha Glasgow, a homeless single mother of two and the children's father, "reclaimed" 702 Vermont St., a vacant building that is going through the foreclosure process.
Around 1,000 supporters lined the streets; many of them veterans of the extended Liberty Park camp out.
"It's unprecedented," said Andrew Berman, the executive vice president of the National Mortgage Professional magazine, and he went on to explain why this occupation is illegal.
"The actual foreclosure is the actual date and time that your house is going up for auction," and then the house is either sold to a buyer or the bank possesses it, said Berman.
"If you occupy the house after that, you're really a trespasser."
Banks try to avoid home possession
Banks don't want the burden of possessing a house.
Attorney fees and hiring a real estate company to sell the property can really add up, not to mention property maintenance, taxes, and basic utility bills while the property is in limbo.
In New York, the Alternative Enforcement Program enacted in 2007 allows the city to hand control of a building to a third-party when the landlord lets it fall into disrepair, as was the case for the Milbank properties in the Bronx.
Loan modifications and short sales, or a type of partial debt forgiveness, are two methods which banks use to avoid home possession.
"Foreclosures are our last resort," a Bank of America spokeswoman stated via email, who added that the bank has completed 970,000 modifications since the housing crisis began in 2008.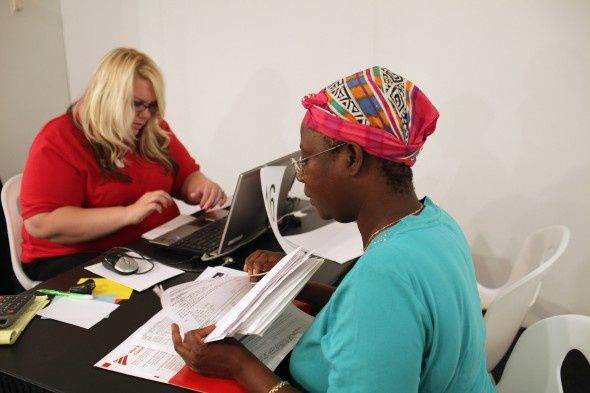 A representative from Bank of America meets with homeowner Gloria Thomas (R) to discuss mortgage modifications at a workshop on August 25, 2011 in New York City. (Spencer Platt/Getty Images)
Under the national Home Affordable Modification Program, (HAMP) banks are given financial incentives to give temporary and permanent loan modifications to homeowners. The U.S. Department of the Treasury (USDT) said in a press release it will withhold incentives from JPMorgan Chase, which has failed to do so for three consecutive quarters.
Through HAMP, more than four-fifths of homeowners have received a permanent modification, saving an estimated $9.4 billion to date, said USDT.
Yet this and other initiatives have not stopped the reclaiming of foreclosed homes around the nation, nor the 230,678 homes that went into foreclosure around the country between September and October, according to foreclosure website Realty Trac.
In New York City, 123 properties are bank-owned with 602 properties in pre-foreclosure status, according to Realty Trac.
A coalition of U.S senators recently wrote a letter to USDT, urging them to utilize vacant foreclosed homes, which is one of the Occupiers' main concerns.
Pleased neighbors
Neighbors are pleased with the occupation, which unofficially began with a man named Alfredo moving into 702 Vermont St. about a month ago.
Related Articles
'Occupy Our Homes' Launched in Brooklyn
Source: The Epoch Times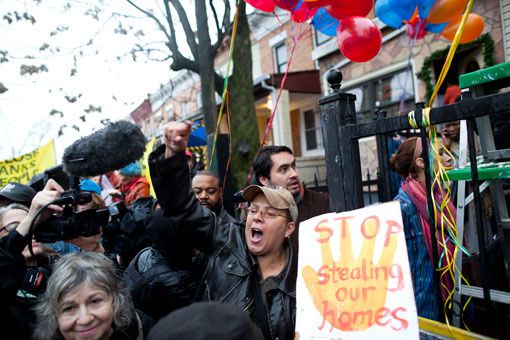 Foreclosures Drop to Near-Four Year Low
"I was so happy to hear about it that I actually gave them a donation to help them," said Michael Hebert, who lives a few doors down. "I think this is really important. It shines a light on how bad the situation is here."
The neighborhood is an older one; many of the houses are deteriorating.
The NYPD has stationed two policemen in front of the house while several police vehicles patrol the neighborhood. The NYPD didn't return a request for comment by press deadline.
With reporting by Benjamin Chasteen
NEW YORK—Occupiers 
Pour être informé des derniers articles, inscrivez vous :