La BBC arnaque 8 millions de téléspectateurs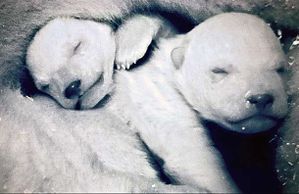 Dans l'émission Frozen Planet diffusé sur la BBC, et qui regroupé 8 millions de téléspectateurs, un reportage sur les ours polaires en voie d'extinction à cause du réchauffement climatique sème le trouble. Le problème ? La BBC a scandaleusement simulé une scène.  Alors que les images devaient avoir été prises à l'Etat sauvage, celles-ci provenaient en réalité d'un zoo avec neige artificielle. Et si le réalisateur a avoué la supercherie, il prétend que cela ne change rien sur la réalité des faits.
Peut-être en effet que cela ne change rien, mais le scandale nourrit désormais les sceptiques du réchauffement climatique  Le reportage a coûté la bagatelle de 16 millions de Livres, on se doute bien que le simulacre de scène cache une volonté économique mais il aurait été préférable de montrer les conséquences du problème climatique sur les ours polaires d'une façon honnête.
Samuel Jenkins pour WikiStrike
BBC Faked Polar Bear Footage re Climate Alarmism
As if the climate alarmist scams revealed in Climategate Iand Climategate II were not enough, not to mention the deliberate misrepresentations in Al Gore's propaganda film, An Inconvenient Truth, we now learn that the BBC faked a key scene in the £16 million, seven-part TV series, Frozen Planet, in which polar bears were being depicted as endangered as a result of global warming. Hosted by alarmist Sir David Attenborough, the series has had viewership of 8 million who were led to believe that the footage was taken in the wild, when all along it was staged in a zoo with fake snow. Attenborough refused to apologize for not disclosing the deception, claiming that the documentary is no different from movies: "Come on, we were making movies." Apparently, for Sir David there is no difference between fiction and fact. Just more "post-normal science"? Similarly, the pro-alarmist BBC has denied any deception even though it deliberately did not advise viewers of the faked footage. As the Daily Mail reports:
It began by showing genuine footage of a male polar bear scavenging for food during the harsh Arctic winter.

As howling blizzards filled the screen, Sir David explained: "He must live on his resources. This is a time to scrape by." The camera then panned to a frozen hillside, before cutting to a close-up of a female polar bear hibernating with her newborn cubs.

Apparently referring to the same bear family, the naturalist said: "But on these side slopes beneath the snow new lives are beginning. The cubs are born blind and tiny. An early birth is easier on the mother."

His commentary continued: "In two more months polar bear families will emerge on the snowy slopes all round the Arctic." The camera then moves from the snowy tundra to the dark nest, watching the cubs nuzzle up to their mother, as he says: "But for now they lie protected within their icy cocoons."

Viewers marvelled at the crew's apparently daring exploits. One fan wrote online after the show: "The camera team would be in a whole heap of s*** if mummy had woken up."

In reality, the den was made of plaster and wood beneath a German zoo's polar bear enclosure. It was fitted with cameras shortly before the cubs' birth.

The truth is revealed on the website, where producer Kathryn Jeffs explained how the film was made last Christmas.

She said it would be impractical to film the carnivores in the wild, adding: "They stay in the pole through the winter and the female polar bears actually give birth at the peak of winter.

"The problem for us is that they do it underneath the snow in these dens of ice and there's absolutely no way we can get our cameras down there."

Last night the BBC insisted: "The commentary accompanying the sequence is carefully worded so it doesn't mislead the audience."

The spokesman added Sir David was aware captive bears were used in the nest scene, adding: "He knows it would have been impossible in the wild."

It is the second time a BBC-Attenborough collaboration has faked polar bear scenes. In 1997, Sir David narrated over scenes of a mother snuggling up with newborns in Polar Bear, Arctic Warrior. It was criticised when it emerged it was filmed at a zoo in Frankfurt, Germany.
 In addition, here are sample quotes in the British media about the deception:
Frozen Planet's eight million devoted fans will not take kindly to being left out in the cold. It emerged yesterday a key scene from the hit BBC series showing a polar bear tending her newborn cubs was filmed in a zoo using fake snow.
—Euan Stretch, Daily Mirror, 12 December 2011

Sir David Attenborough yesterday defended Frozen Planet's fake polar bear footage – by comparing BBC nature documentaries to movies. In a surprising justification for duping millions of viewers, the TV star argued that owning up to splicing archive film with real Arctic scenes during the programme would have spoiled the mood. His blunt remarks came as more footage from the series was exposed as a sham.
—Simon Boyle, Daily Mirror, 13 December 2011

No one wants to criticise Sir David Attenborough, given the amazing television he has made and the work he's done to preserve wildlife and educate us about the way we are destroying the planet. But in the case of Polar Beargate, he would be better to recognise that what he and the BBC did was duplicitous and simply apologise. Viewers will be disappointed to find out that Sir David is yet another TV presenter they cannot totally trust.
—Jim Shelley, Daily Mirror, 13 December 2011

Sir David Attenborough is one of our finest journalists and a great expert on animal life. Unfortunately, however, when it comes to global warming he seems to prefer sensation to objectivity.
—Nigel Lawson, BBC Radio Times, 6 December 2011

I took something of a personal interest in the last instalment of Sir David Attenborough's Frozen Planet series, billed by the BBC as yet another grim warning of the dangers of global warming. Next day I was due to launch a report for the Global Warming Policy Foundation on the BBC's notorious bias on this issue. In fact, Sir David played it rather more cleverly than in previous forays. Accompanied by the usual breathtaking photography, he didn't make his message too explicit. Instead he just conveyed that the polar ice caps are melting at an unprecedented rate, suggesting that this will cause a disastrous rise in sea levels. In each case, however, he arranged his evidence in a notably loaded way, carefully omitting much of the information a less selective picture would have included.
—Christopher Booker, The Sunday Telegraph, 11 December 2011

MPs have demanded that the BBC reveals details of all commercial deals its journalists have with other organisations, amid fears of an increasing number of conflicts of interest affecting their work. The Corporation is under pressure following The Mail on Sunday's disclosure two weeks ago that senior BBC journalist Roger Harrabin accepted £15,000 in grants from the University of East Anglia, which was at the heart of the 'Climategate' scandal, and then reported on the story without declaring this interest to viewers.
—Miles Goslett, Daily Mail, 12 December 2011

For almost three decades, the British Social Attitudes Survey has measured growing acceptance of things like homosexuality and single motherhood. On December 7th it picked up a more worrying kind of nonchalance. Ardour for environmentalism is cooling. Why might this be? Peter Lynn of the University of Essex reckons a fuss over the way some academics presented data, known as "climategate", may have had an effect. And present economic woes have distracted people from long-term concerns.
—The Economist, 10 December 2011
Pour être informé des derniers articles, inscrivez vous :